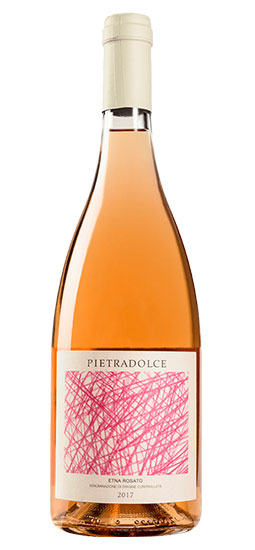 Nerello Mascalese has grown for centuries in and around Etna and it thrives in the sandy volcanic soil and long growing seasons of the elevated slopes of the Etna volcano.
For their Rosato, Pietradolce chooses a selection of grapes from vineyards in the Zottorinoto Contrada in Solicchiata, on the northern slopes. It is actually made from the same grapes as Archineri, grown at 600 meters (1,970 feet) above sea level. The grapes partially macerate to achieve the lovely onion-skin color. The wine ages in stainless steel and in bottle. Clean, crisp, fresh with great balance. A keeper.
Wine exported to
Canada, USA, Singapore, Australia, Turks and Caicos
2020 | James Suckling91
2019 | Vini Buoni d'ItaliaGold Star
2017 | Wine Advocate92
2017 | Wine Enthusiast90
2016 | Wine Spectator90
2016 | Vinous88
Grape Varieties:
Fermentation container:
Length of alcoholic fermentation:
Type of yeast:
Fermentation temperature:
Maceration technique:
Length of maceration:
Aging containers:
Bottling period:
Aging before bottling:
Aging in bottle:
Closure:
Organic:
Vineyard location:
Solicchiata, Mount Etna, Sicily
Vineyard size:
Soil composition:
Volcanic, stony, sandy loam
Vine training:
Altitude:
700 meters above sea level
Vine density:
Yield:
Exposure:
Years planted:
Age of vines:
Time of harvest:
First vintage of this wine:
Total yearly production (in bottles):
Tasting notes:
Distinct minerality, acidity and complexity combined with an intense, ample bouquet of rich fruit. These characteristics make this a very supple and versatile wine.
Serving temperature:
Best served at 10 °12 C° C (46.4-50° F).
Food pairings:
Pairs well with grilled vegetables and pizza. Very flexible wine
Aging potential:
Alcohol:
Winemaker:
You may also like from
Pietradolce