Archineri Etna Bianco DOC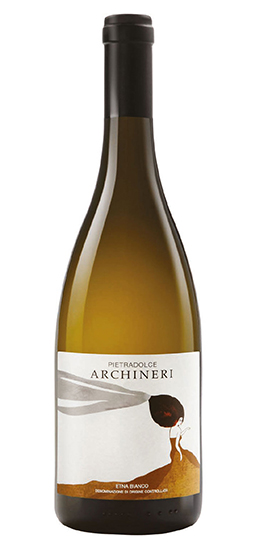 Archineri comes from the Sant'Andrea vineyard on the eastern slopes of the historic volcano. It is an intense and fine expression of its terroir. The vines have been there for a century and the altitude is quite high – 850 meters (2,790 feet) above sea level. Archineri ages exclusively in stainless steel and bottle, preserving its primary characteristics. This wine is fragrant and mellow, fresh and tangy, with just the right amount of concentration.
Wine exported to
Canada, USA, Singapore, Australia, Turks and Caicos
2019 | Wine Advocate93
2017 | James Suckling93
2017 | Wine Enthusiast92
2016 | Decanter93
2016 | Vinous93
Grape Varieties:
Fermentation container:
Length of alcoholic fermentation:
Type of yeast:
Fermentation temperature:
Aging containers:
Bottling period:
Aging before bottling:
Aging in bottle:
Closure:
Organic:
Vineyard name:
Vineyard location:
Vineyard size:
Soil composition:
Volcanic, stony, sandy loam
Vine training:
Altitude:
850 meters (2,788 feet) above sea level
Vine density:
Yield:
Exposure:
Years planted:
Age of vines:
pre-Phylloxera 100-120 years old
Time of harvest:
First vintage of this wine:
Total yearly production (in bottles):
Tasting notes:
Structured wine, with complex aromas of grapefruit and herbs; fresh and flavorful, with a long finish.
Serving temperature:
Best served at 10-12 °C (46.4-50 °F).
Food pairings:
Pairs well with seafood salad
Aging potential:
Alcohol:
Winemaker:
You may also like from
Pietradolce