Contrada Santo Spirito Etna Rosso DOC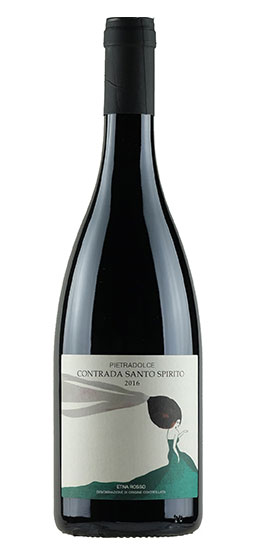 100% Nerello Mascalese. Pietradolce "Contrada Santo Spirito" Etna Rosso DOC has a rich bouquet ranging from red berry jam to spices and mineral notes; elegant and characterful at the same time.
"Pietradolce's main goal is to highlight the significant differences between the various Etna contradas, showing the absence of homogenization. In fact, each micro-territory on Etna expresses its own particular nuances, which can depend on different lava flows, exposure and pedoclimatic variations."
Wine exported to
Canada, USA, Singapore, Australia, Turks and Caicos
2016 | James Suckling93
2017 | Wine Advocate94
2016 | Vinous90
2016 | Wine Enthusiast93
2016 | Wine Spectator92
Grape Varieties:
Fermentation container:
Length of alcoholic fermentation:
Type of yeast:
Fermentation temperature:
Maceration technique:
Length of maceration:
Malolactic fermentation:
Aging containers:
Container size:
Container age:
Type of oak:
French, fine-grained, light toast
Bottling period:
Aging before bottling:
Aging in bottle:
Closure:
Organic:
Vineyard name:
Vineyard location:
Passopisciaro, C.da Santo Spirito Mount Etna, Sicily
Vineyard size:
Soil composition:
Volcanic, stony, sandy loam
Vine training:
Altitude:
900 meters (2,952 feet) above sea level
Vine density:
Yield:
Exposure:
Years planted:
Age of vines:
pre-Phylloxera 80-90 years old
Time of harvest:
First vintage of this wine:
Total yearly production (in bottles):
Tasting notes:
Light ruby red with garnet highlights. Great finesse and elegance, mineral.
Serving temperature:
Best served at 16-18 °C (60.8-64.4 °F).
Food pairings:
Pairs well with red meat and roasts.
Aging potential:
Alcohol:
Winemaker:
You may also like from
Pietradolce