Contrada Santo Spirito Etna Rosso DOC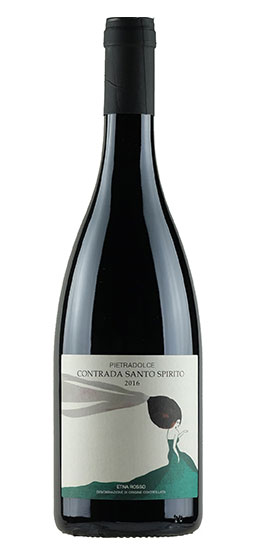 The Contrada Santo Spirito vineyard is about 2 hectares/5 acres of pre-Phylloxera terraced vines that have the privilege of overlooking a valley, just two kilometers from the original estate. Thus, there is very little if any protection in an area known for its drying winds, and this gives the wine its signature freshness. It is located near Passopisciaro and its wine is the most similar to a classic Burgundy. Delicate and elegant with great finesse, with a little less muscle than the other wines in the line.
After fermentation and eighteen days of maceration, Santo Spirito ages in third and fourth-use tonneaux. It beautifully highlights the differences between Etna's micro-terroirs.
Wine exported to
Canada, USA, Singapore, Australia, Turks and Caicos
2017 | Wine Advocate94
2019 | James Suckling91
2016 | Vinous90
2016 | Wine Enthusiast93
2016 | Wine Spectator92
Grape Varieties:
Fermentation container:
Length of alcoholic fermentation:
Type of yeast:
Fermentation temperature:
Maceration technique:
Length of maceration:
Malolactic fermentation:
Aging containers:
Container size:
Container age:
Type of oak:
French, fine-grained, light toast
Bottling period:
Aging before bottling:
Aging in bottle:
Closure:
Organic:
Vineyard name:
Vineyard location:
Passopisciaro, C.da Santo Spirito Mount Etna, Sicily
Vineyard size:
Soil composition:
Volcanic, stony, sandy loam
Vine training:
Altitude:
900 meters (2,952 feet) above sea level
Vine density:
Yield:
Exposure:
Years planted:
Age of vines:
pre-Phylloxera 80-90 years old
Time of harvest:
First vintage of this wine:
Total yearly production (in bottles):
Tasting notes:
Light ruby red with garnet highlights. Great finesse and elegance, mineral.
Serving temperature:
Best served at 16-18 °C (60.8-64.4 °F).
Food pairings:
Pairs well with red meat and roasts.
Aging potential:
Alcohol:
Winemaker:
You may also like from
Pietradolce