Etna Rosso Contrada Rampante DOC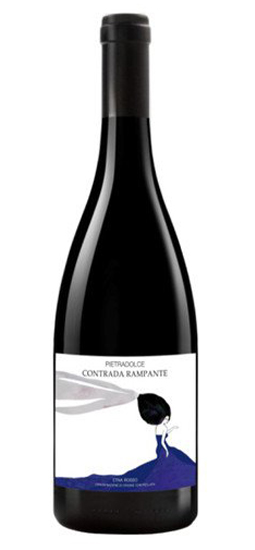 Located just outside the town of Castiglione di Sicilia, the Contrada Rampante cru is a semi-amphitheater, measuring 1.5 hectares/3.7 acres, featuring an ancient variety native to Etna, Nerello Mascalese. The vineyard is surrounded by olive trees, which provide some shelter from unpleasant weather conditions. It also benefits from stimulating day/night temperature swings, which favor slow ripening and crisp, complex aromas and structure. The soil is also full of iron and manganese. The result is a classic Etna interpretation; a powerful, muscular, juicy wine. A true expression of its terroir and a definite crowd-pleaser.
Wine exported to
Canada, USA, Singapore, Australia, Turks and Caicos
2017 | Wine Advocate94
2019 | James Suckling90
2017 | Vinous93
2016 | Gambero Rosso3 Bicchieri
2016 | Wine Enthusiast89
2016 | Wine Spectator91
Grape Varieties:
Fermentation container:
Length of alcoholic fermentation:
Type of yeast:
Fermentation temperature:
Maceration technique:
Length of maceration:
Malolactic fermentation:
Aging containers:
Container size:
Container age:
Type of oak:
French, fine-grained, light toast
Bottling period:
Aging before bottling:
Aging in bottle:
Closure:
Organic:
Vineyard name:
Vineyard location:
Solicchiata, C.da Rampante, Mount Etna, Sicily
Vineyard size:
Soil composition:
Volcanic, stony, sandy loam
Vine training:
Altitude:
850 meters (2,788 feet) above sea level
Vine density:
Yield:
Exposure:
Years planted:
Age of vines:
pre-Phylloxera 80-90 years old
Time of harvest:
First vintage of this wine:
Total yearly production (in bottles):
Tasting notes:
Deep character, complexity, red fruit and underbrush, a wonderful minerality and elegance.
Serving temperature:
Best served at 16-18 °C (60.8-64.4 °F).
Food pairings:
Pairs well with lamb and grilled steak.
Aging potential:
Alcohol:
Alc. Cont. by Vol.: 13.5%
Winemaker:
You may also like from
Pietradolce