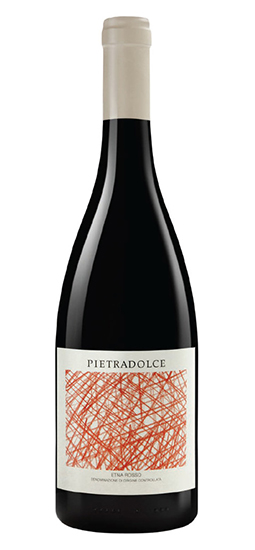 Nerello Mascalese has grown for centuries in and around Etna and it thrives in the sandy volcanic soil and in the long growing seasons of the elevated slopes of the Etna volcano. The wines from Etna are often compared to the best Pinot Noirs in the world and in Italy, the area is often referred to as "the Burgundy of Italy," because of the wine's similarities to the highly esteemed French counterpart.
This particular version comes from a single vineyard near the town of Castiglione di Sicilia, 600 meters (1,968 feet) above sea level. It ages three months in French, fine-grained oak barrels that have been lightly toasted. Trademark Etna Rosso features abound in this entry-level version: a virtual explosion of flavor, full of fruity and floral aromas, laced with sweet spice. Lovely acidity, preserved by the cool overnight temperatures and elegant tannins.
Wine exported to
Canada, USA, Singapore, Australia, Turks and Caicos
2020 | James Suckling90
2019 | Vinous92
Grape Varieties:
Fermentation container:
Length of alcoholic fermentation:
Type of yeast:
Fermentation temperature:
Maceration technique:
Length of maceration:
Malolactic fermentation:
Aging containers:
Container size:
Container age:
Type of oak:
French, fine-grained, light toast
Bottling period:
Aging before bottling:
Aging in bottle:
Closure:
Organic:
Vineyard location:
Solicchiata, Mount Etna, Sicily
Vineyard size:
Soil composition:
Volcanic, stony, sandy loam
Vine training:
Altitude:
800 meters (2,625 feet) above sea level
Vine density:
Yield:
Exposure:
Years planted:
Age of vines:
Time of harvest:
First vintage of this wine:
Total yearly production (in bottles):
Tasting notes:
Berries and brushwood; elegance, minerality and long-lasting on the palate.
Serving temperature:
Best served at 16-18 °C (60.8-64.4 °F).
Food pairings:
Pairs well with red tuna, caponata (typical Sicilian dish similar to ratatouille), white meat and cheese.
Aging potential:
Alcohol:
Alc. Cont. by Vol.: 14.5%
Winemaker:
You may also like from
Pietradolce