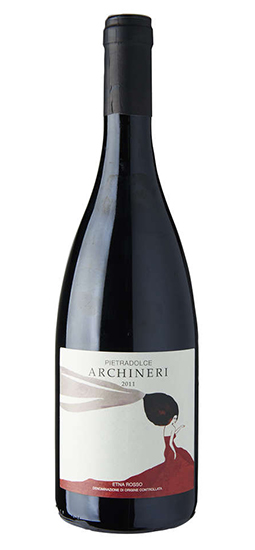 Archineri is the winery's historic vineyard of Sicily's native Nerello Mascalese, measuring just 2 hectares/about 5 acres. It is pre-Phylloxera and enjoys a semi-amphitheater shape, surrounded in olive trees and prickly pear cacti. Warmed by the Sicilian sun, this is the perfect environment for these seventy- to eighty-year-old vines to flourish. Its altitude is quite high, though not the highest of the Pietradolce vineyards. Archineri Rosso is flawless, well-rounded, forward, and shows great finesse. It ages fourteen months in fine-grained, lightly toasted French oak tonneaux and in bottle.
Wine exported to
Canada, USA, Singapore, Australia, Turks and Caicos
2017 | Wine Advocate93
2019 | James Suckling92
2016 | Wine Enthusiast92
2016 | Wine Spectator90
2015 | Vinous93
2011 | Decanter93
Grape Varieties:
Fermentation container:
Length of alcoholic fermentation:
Type of yeast:
Fermentation temperature:
Maceration technique:
Length of maceration:
Malolactic fermentation:
Aging containers:
Container size:
Container age:
Type of oak:
French, fine-grained, light toast
Bottling period:
Aging before bottling:
Aging in bottle:
Closure:
Organic:
Vineyard name:
Vineyard location:
Solicchiata, Mount Etna, Sicily
Vineyard size:
Soil composition:
Volcanic, stony, sandy loam
Vine training:
Altitude:
850 meters (2,788 feet) above sea level
Vine density:
Yield:
Exposure:
Years planted:
Age of vines:
Pre-Phylloxera 80-90 years old
Time of harvest:
First vintage of this wine:
Total yearly production (in bottles):
Tasting notes:
Lush and fruity on the nose, with distinct spicy and balsamic nuances; on the palate, excellent volume, depth and structure, great mouthfeel and finesse; clean, consistent and lengthy finish.
Serving temperature:
Best served at 16-18 °C (60.8-64.4 °F).
Food pairings:
A wonderful match for Pasta alla Norma (pasta with tomato, eggplant and ricotta salata) and red meat.
Aging potential:
Alcohol:
Winemaker:
You may also like from
Pietradolce