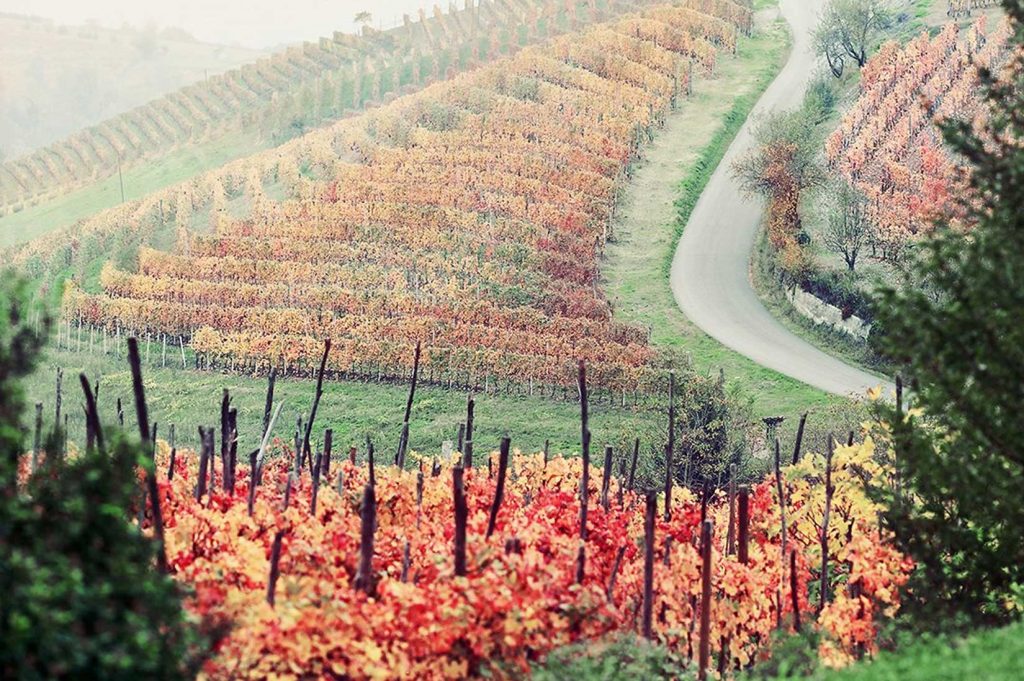 In Native Wine Grapes of Italy, Ian D'Agata calls Nebbiolo "Italy's greatest native grape" and "one of the world's five or six great cultivars." Discover what makes Nebbiolo so widely revered yet so scarcely cultivated.
Most famed in the monovarietal wines Barolo and Barbaresco, Nebbiolo's heart doesn't just belong to these wines historically known as "the wine of kings" and the "wine of queens." It is also used in Ghemme and Gattinara, made in upper Piedmont, as well as lower-tiered Langhe Nebbiolo, and in wines of the Valtellina. It has also started popping up in the western USA, Australia and South Africa but in comparison to other grapes, in very small quantities.
Fewer than 10% of the vineyards in its native Piedmont grow this fickle grape with neighboring vineyards dedicated to other autochthonous varieties, such as Dolcetto and Barbera, and a few international varieties. Aside from available real estate being extremely hard to come by in Piedmont – growers often have tiny parcels on prime hillsides split with other wineries – terroir is paramount to Nebbiolo's success if not existence, especially if you want to make one of the heavyweights. "Nebbiolo cultivated in Piedmont takes on the characteristics of the area in which it grows, which one might try to recreate in other parts of the world. But you end up with completely different results. This isn't negative, but something we can expect from a grape that is so enormously influenced by the environmental conditions where it grows," explains Manuel Marchetti of Marcarini. Once you choose the right plot, "cultivation isn't even that difficult. Growers can reach the perfect maturation of the tannins, something Nebbiolo is rich in."
The Life and Times of Nebbiolo
Nebbiolo is often the first to bud and the last to ripen – in October, when fog starts to fall on the vineyards, which is also one of the theories as to how it got its name (Nebbia means fog in Italian). But it doesn't thrive in every kind of soil, preferring calcareous marl and sand or acidic and morainic soils, which span from lower to upper Piedmont. It also doesn't work in "overly lean soils, and requires constant water reserves," explains Gian Piero Romana, agronomist for Poderi Einaudi. It also flowers earlier than most making it prone to variable early spring weather.
Taking the significantly long growth cycle into consideration, aspect is thus particularly important. And Nebbiolo is all about the south. Technically speaking, "Southern exposure receives the most sunlight as we are at 45 degrees latitude. So, because of the declination of the sun and the inclination of the earth's axis, the sun is always lower here than it is at the equator and rises not quite in the east and sets not exactly in the west. Thus, southern exposure means more sunlight hours. This is very important for Nebbiolo as it matures after most other grape varieties, by mid-October or even later, and this exposure gives Nebbiolo a better chance of ripening correctly," explains Manuel.
Nebbiolo also requires very careful pruning. "Because it is not the most fertile of varieties, the meticulous choice of shoots to prune is required; otherwise there is a risk the plant won't produce," explains Gian Piero. "Green pruning must also be meticulously carried out, in that there is a risk of powdery mildew if there are too many clusters grouped together."
A Love Affair with Nebbiolo
Nebbiolo seems to tick all the boxes providing across-the-board satisfaction through a wide variety of palates and different price points. Nebbiolo is known for its high acidity and grippy tannins but the amounts will always vary due to different winemaking practices. However, you'll almost always find signature fruity, floral – especially rose – and earthy notes.
If you are looking for something easy to drink and pair, a Langhe Nebbiolo can easily fit the bill. "The exact same grape is used but the production zone changes," explains Gian Piero. Sometimes, more productive clones may be used outside Barolo or Barbaresco but still within the wine region or perhaps the youngest vines are used. Production methods do change as they are meant to have more immediate drinkability. Look out for: Poderi Einaudi Langhe Nebbiolo DOC, Marcarini Langhe Nebbiolo Lasarin DOC, and Torraccia del Piantavigna Neb Nebbiolo Colline Novaresi DOC. There are also a host of more approachable Barolos that don't need long cellaring to be fully enjoyed. From the Empson portfolio: Marcarini Barolo Del Comune Di La Morra DOCG and Poderi Einaudi Barolo Ludo DOCG. And for the serious enthusiast, Barolos that are entirely worth the wait: Poderi Einaudi Barolo Cannubi DOCG, Marcarini Barolo Brunate DOCG. But don't stop there, go for Torraccia del Piantavigna's Ghemme DOCG or Gattinara DOCG, two excellent expressions of Alto Piemonte, which you can read more about here.