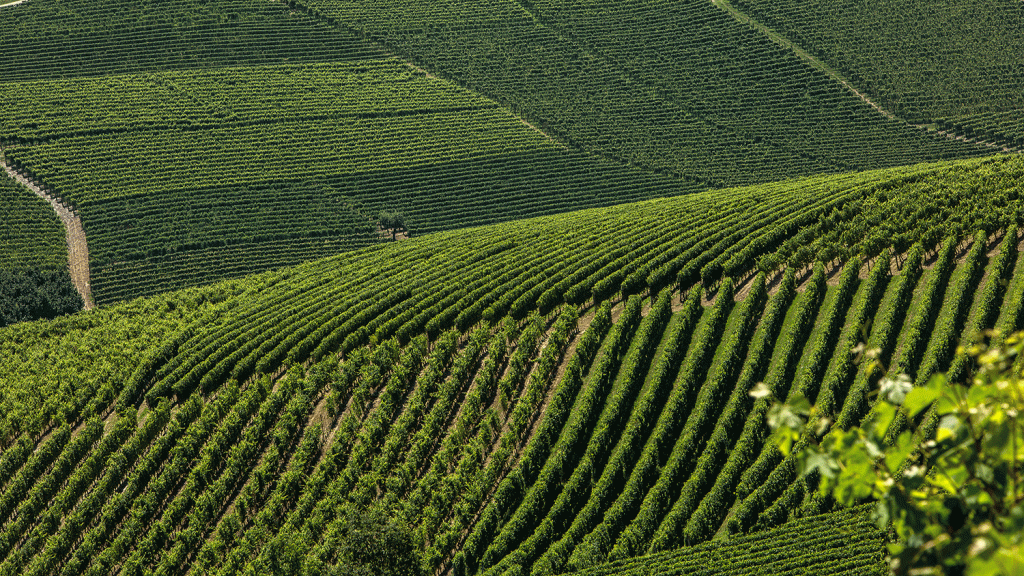 The Marcarini family has been making fine Barolo and other traditional Piedmont wines in the picturesque town of La Morra for six generations. Today, Elisa and Andrea Marchetti work with their father Manuel running this boutique-sized winery while their sister Chiara manages the family's holiday home. The winery makes 120,000 bottles a year from 16 hectares/39 acres under vine, with vineyards in the Langhe and Roero areas of the winemaking region. Their two most important vineyards are Brunate and La Serra, which lead to three Barolos – Brunate, La Serra, and Comune di La Morra – that can satisfy an array of diverse palates.
Brunate and La Serra have distinct microclimates, which lead to subtle differences in the wines – they both see essentially calcareous clay with a high magnesium content and enjoy mostly southern exposure. All three wines age at least 24 months in Slavonian oak casks (of 25-30 hL) before bottle aging a minimum of 6 months, though Brunate ages at least 18 months in bottle.
Barolo Brunate DOCG (4.5 hectares/10,000 bottles)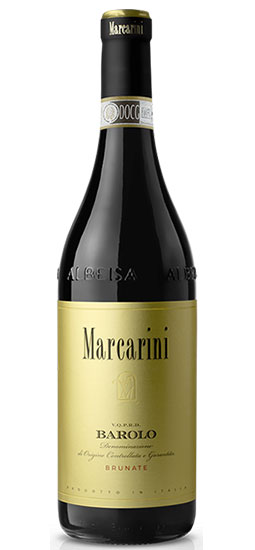 Brunate is very much Marcarini's flagship wine, being the first of their Barolos and a landmark wine in the area. The hillside vineyards are located at about 300 meters above sea level and form a sort of amphitheater, which provides protection from severe weather and guarantees drastic diurnal temperature shifts especially near the end of ripening in October. Such conditions lead to very complex wines, with slightly fewer floral notes and more spice – even menthol.
Brunate spends about 30-40 days maceration with a submerged cap. This is to bring out the color, tannins, and give the wine its trademark structure. The result is an intense, complex, rich, generous, and persistent wine with notes of vanilla and tobacco, and mouth-filling tannins. Brunate spends one extra year in bottle to fully develop its beautiful palate.
Name History: Nebbiolo grapes are known for their high level of bloom, pruina in Italian, on the surface of the grapes, which is a substance produced by the grapes to protect against solar rays, insects, and bacteria. It is so high on Nebbiolo that it looks like frost, brina in Italian. The name became Brinate but eventually evolved into Brunate. Consequently, Marcarini was one of the very first wineries to add the place name to their label in the 1930s.
Barolo La Serra DOCG (3.5 hectares/10,000 bottles)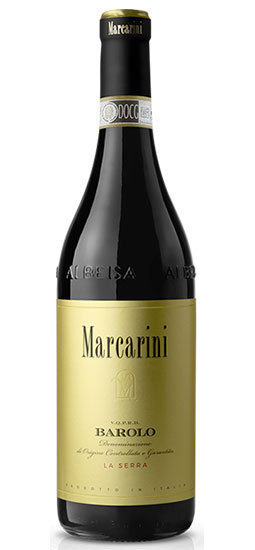 La Serra vineyard is just a little more elevated – 380 meters above sea level. It is not shaped like an amphitheater and has excellent exposure with equally good ventilation. The day/night temperature swings are less vast, yet important enough to fully develop a generous range of aromas. The result is sheer elegance for this "queen" of wines, along with good tannin and acidity profiles, and a smoother palate than that of Brunate. Prominent aromas of violet, rose, and licorice.
La Serra also spends 30-40 days macerating with a submerged cap before aging.
Name History: Serra means greenhouse in Italian. It is possible the name comes from the fact that temps are milder here and diurnal shifts are slightly less drastic.
Barolo Comune di La Morra DOCG (25,000 bottles)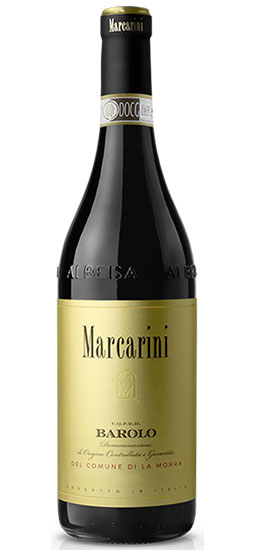 Comune di La Morra Barolo uses grapes from each of these vineyards to make a more approachable wine. The grapes are carefully selected after thorough phenological analysis. It does not macerate on a submerged cap to limit tannin extraction, keeping them silkier. The result is an easier to drink yet still truly elegant, velvety, fresh Barolo with aromas of freshly picked rose petals and round tannins.
Name History: The MGA for La Morra.