Neb Nebbiolo Colline Novaresi DOC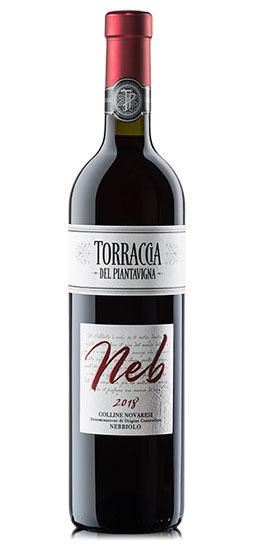 Torraccia del Piantavigna is a family-owned, eco-friendly estate, founded in 1997 by Alessandro Francoli of the Luigi Francoli Distillery. It is located in the foothills of Monte Rosa in the Alta Piemonte area, which is known for longstanding winemaking traditions and elegant world-class wines. The area features a continental climate tempered by cool mountain breezes – which also favor excellent day/night temperature swings – and fluvial, alluvial soils, rich in minerals, that lead to age-worthy wines due to opulent tannins and excellent acid profiles. The wines, styled by enologist Mattia Donna and consulting enologist Beppe Caviola, have a clean and elegant style, partly due to the use of medium-sized Allier oak casks, which allow for long and gentle maturation.
The 2018 vintage marks Neb's first vintage and is meant to fully express Nebbiolo. It is crisp, youthful, fresh and fragrant. Its low alcohol content makes it perfect as an everyday wine.
Grape Varieties:
Fermentation container:
Malolactic fermentation:
Aging containers:
Stainless steel and used oak casks
Type of oak:
Aging before bottling:
Closure:
Organic:
Vineyard location:
East of the river Sesia in the rolling hills of the DOC "Colline Novaresi" above the village of Ghemme
Vineyard size:
Soil composition:
Fluvial/Alluvial and clay
Vine training:
Altitude:
260 to 300 meters (853-984 feet) above sea level
Exposure:
Years planted:
Time of harvest:
First vintage of this wine:
Total yearly production (in bottles):
Tasting notes:
The wine has a bright ruby red color with violet hues, a sign of its youth and freshness. The nose has notes of fruits and flowers (especially violet), with gentle balsamic notes. In the mouth, the wine is satisfying, fresh and balanced, with soft tannins.
Serving temperature:
Best served at 16-18 °C (60.8-64.4 °F).
Food pairings:
Pair with red meat, braised beef, wild game and seasoned cheeses
Aging potential:
Winemaker:
You may also like from
Torraccia del Piantavigna