A family, boutique-sized winery located in Ghemme in Alto Piemonte, Torraccia del Piantavigna has just 40 hectares and makes about up to 250,000 bottles a year. It was founded by Alessandro Francoli of the Luigi Francoli Distillery, but in 2015, the Francoli family teamed up with the Ponti family to continue the legacy of grandfather Pierino Piantavigna, whose last name consequently means "plant vines". Plant vines he did, first in the 1970s. Since then, the winery has grown and developed, carving out an identity all its own based on minimal intervention, and a clean and elegant style that lets the grapes speak for themselves. Along the way, their wines have received excellent scores from top reviewers (Tre Bicchieri for their Ghemme and Gattinara wines for twelve years running; as well as points in the high 90s from Robert Parker, James Suckling, Wine Enthusiast, and Decanter, who incidentally also gave them a platinum award.) And they've been further recognized for their responsible practices towards the environment and the local community, even receiving eco-friendly awards.
The winery has a range of wines that satisfies the enological desires of many, featuring only grapes native to Piedmont, from Erbavoglio, a fragrant, easy-drinking white to Neb, an everyday Nebbiolo, to its award-winning Ghemme and Gattinara DOCG wines.
We asked Alessandro Guagliardi, the commercial director for the winery, a few burning questions. For instance, how do they compare to two Italian powerhouses – Barolo and Barbaresco. Insisting that one shouldn't be considered better or worse than the other, "I would say they are more like relatives. But Gattinara probably compares more to Barbaresco, which is more feminine and elegant, thanks to excellent minerality. It is less austere than Ghemme, which is more like a Barolo. It can perhaps be more powerful and complex, but it still maintains its grand elegance. Everything happens in our area about two weeks after in Le Langhe as we are further north and temps are cooler. Especially the days before harvest, which see drastic diurnal shifts. Our wines are slightly lighter, but what they lose in weight, they gain in elegance. And the key to these wines is great elegance. These are wines with a long life. They age extremely well." Incidentally, in 1845, Camillo Benso, the Count of Cavour, Italy's first prime minister, and an avid wine enthusiast, said that the hills of Novara could easily 'compete with Burgundy.' "And even though it's a different grape, that's true, the wines of Burgundy have a lot in common with our wines in terms of style."
Speaking of aging, their philosophy of minimally intervening in the wines, applies here too. "As our wines are delicate, we don't use a lot of oak so we don't mask the natural flavors and complexity. We believe Nebbiolo itself is interesting. So we use only large Allier (25-50 hL) and Slavonian (70-150 hl) oak casks. This adds complexity, but doesn't add any oak flavor or aroma. For us, it is more about the micro-oxidation, which softens the wine and tannins, helping their molecules to bond so they aren't harsh. It's a slow process for us, we don't go to market for at least four years with the Gattinara and six for the Ghemme, which are both longer than the requirements." Alessandro goes on to explain that it's a question of style. A lot of wineries in Piedmont over the last thirty years have moved over to barrique to satisfy international tastes. But recently, the trend has changed, leading many of these producers back to large casks. "We have always thought barrique covers up Nebbiolo's inherent characteristics too much. The Slavonian oak impacts the wine less. It oxygenates, without imparting an oaky flavor. Our goal is to find a balance between Allier and Slavonian oak."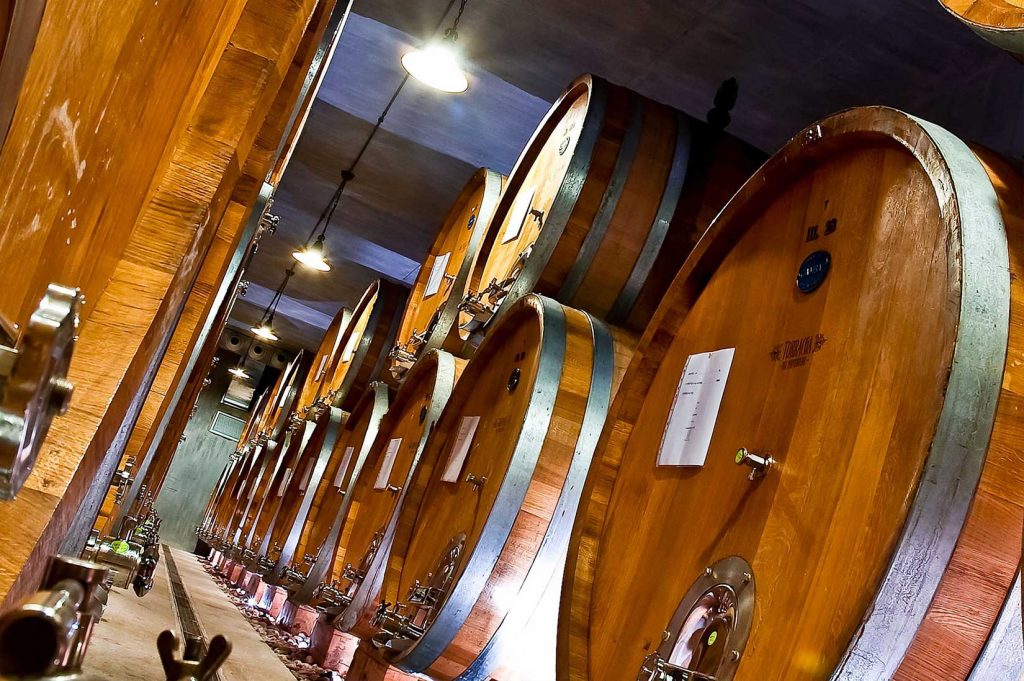 To know Torraccia is to love them — once you drink their wines, you can't help but fall head over heels. Why? Because these wines are rewarding, because their elegance evolves as they age, through each vintage. No one else can make these wines, because of the unique terroir. These are not fruit-bowl wines, they are not big and fat. They are delicate and perfumed and that's what makes them appealing. They are incredibly complex, fine, and exceptionally accompany meals, as they enhance whatever you are eating. "Anything from pasta al pomodoro to rich braised short ribs. The possibilities are endless. And you can also drink them all year long. They are truly spectacular," explains Alessandro. Their enthusiasm is certainly infectious. If you talk to anyone at the winery they'll tell you that to fully appreciate their wealth of aromas, you need a big glass. A big wine needs a big glass.