Erbavoglio Colline Novaresi Bianco DOC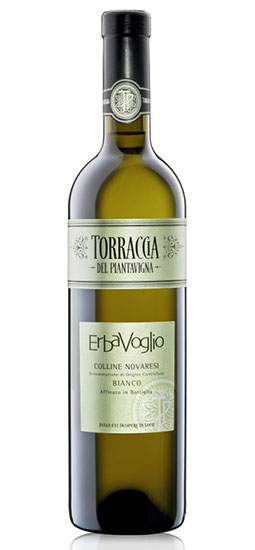 Made from Erbaluce, a native local grape, fermentation takes place at a very low-temperature fermentation, which protects the integrity of the grapes and leaves us with a fragrant, fresh, easy-drinking wine with excellent acidity, minerality and persistence. A great aperitif or partner for light dinners.
2019 | Wine Enthusiast90
2019 | James Suckling90
2019 | Wine Advocate88
Grape Varieties:
Fermentation container:
Malolactic fermentation:
Aging containers:
Aging before bottling:
Aging in bottle:
Closure:
Organic:
Vineyard name:
Vineyard location:
From the estate-owned vineyard Maretta, located in Ghemme
Vineyard size:
Soil composition:
Fluvial/Alluvial and clay
Vine training:
Altitude:
260 to 300 meters (853-984 feet) above sea level
Exposure:
Years planted:
Total yearly production (in bottles):
Tasting notes:
Pale straw-yellow with greenish hues and fruity, fragrant notes of citrus. Fresh-tasting and pleasant with a dry, clear, finish.
Serving temperature:
Best served at 6-8 °C (42.8-46.4 °F)
Food pairings:
Excellent with prepared fish or other medium-weight dishes.
Aging potential:
Alcohol:
Winemaker:
You may also like from
Private: Torraccia del Piantavigna