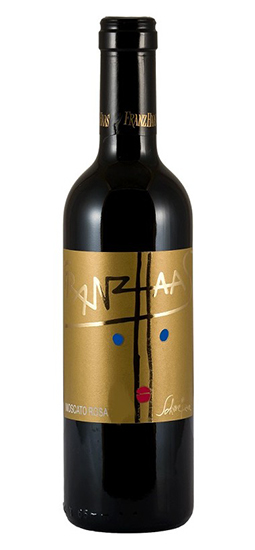 The Moscato Rosa grape is native to Alto Adige. The aromatic grapes are grown in well-ventilated vineyards within the district of Egna. Ventilation is essential to preventing humidity, which would cause Botrytis. As it is a delicate variety, it must be kept safe from this and other molds because it would cause a reduction in color intensity and aromatic components.
The vines for this version face south and southwest and enjoy varied soil composition and average altitudes. The grapes are picked when they are very ripe, though neither early or late, as the sugar levels are naturally very high. Vinified as a red wine, skin maceration lasts very short time to avoid extracting excessively astringent tannins. This wine features a lovely ruby red color and intense aromas ranging from fruit and floral notes to sweet spices and orange zest. Lovely on its own as a mediation wine, or with desserts.
Grape Varieties:
Fermentation container:
Type of yeast:
Maceration technique:
Length of maceration:
Malolactic fermentation:
Aging containers:
Aging before bottling:
Aging in bottle:
Closure:
Organic:
Vineyard location:
Soil composition:
Vine training:
Altitude:
250 meters (820 feet) above sea level
Vine density:
4,000-9,000 plants per hectare
Yield:
Exposure:
Years planted:
Age of vines:
Time of harvest:
Total yearly production (in bottles):
Tasting notes:
A bright, fragrant ruby red wine with lively freshness and an intense aromatic nose with notes of rose, cloves, cinnamon and orange peel. On the palate, the wine is fascinating with complexity and an elegant structure, and a balance between acidity, sweetness and tannins.
Serving temperature:
Best served at 14 -16 °C (57.2 - 60.8 °F).
Food pairings:
Ideal for creative pairings and as a meditation wine. It is perfect with dry chocolate cakes, with the traditional Austrian Linzer Torte and with other chocolate sweets.
Aging potential:
Alcohol:
Alcohol cont. 11.5% by vol.
Winemaker:
You may also like from
Franz Haas