Montepulciano d'Abruzzo Ursonia DOC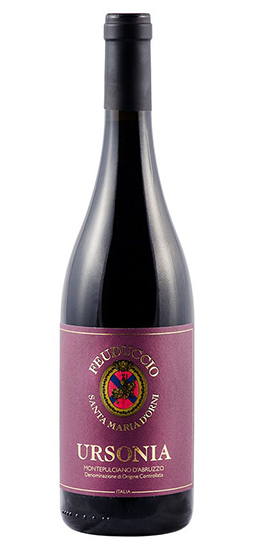 Montepulciano d'Abruzzo is a mainstay in Abruzzo – and on wine lists across the world, thanks to its often-inky color and highly aromatic nature featuring spicy and earthy nuances.
This Montepulciano d'Abruzzo embodies its terroir, epitomizing typicity. And for that, it was named for its home. Ursonia (meaning land of the bears) is the Latin name for Orsogna, the home of Il Feuduccio. Pure Montepulciano d'Abruzzo from select grapes and locations are harvested in early fall from hillside, south-facing vineyards. The wine ages in barrique and barrels for eighteen months and then in bottle for twenty-four months. It is unfiltered and outside intervention is kept to a minimum throughout the entire process. Ample and intense aromas with ripe fruit and spice, a lush, complex palate with integrated tannins, and a long finish.
Wine exported to
Canada, USA, Finland
2016 | Vinous92
2013 | Gambero Rosso3 Bicchieri
2013 | Wine Spectator90
2005 | Wine Advocate92
Grape Varieties:
100% Montepulciano d'Abruzzo
Fermentation container:
Length of alcoholic fermentation:
Type of yeast:
Fermentation temperature:
Maceration technique:
Length of maceration:
Malolactic fermentation:
Fining agent:
Aging containers:
Container size:
Container age:
Type of oak:
Bottling period:
Aging before bottling:
Aging in bottle:
Closure:
Organic:
Vineyard name:
Vineyard location:
Soil composition:
Vine training:
Altitude:
432 meters (1,417 feet) above sea level
Vine density:
Yield:
Exposure:
Years planted:
Age of vines:
Time of harvest:
First vintage of this wine:
Total yearly production (in bottles):
Tasting notes:
Deep ruby in color, the bouquet is ample and intense, reminiscent of ripe fruit and spices confirmed on a luscious, complex palate with well-integrated wood and a long, focused, concentrated finish.
Serving temperature:
Best served at 16-18 °C (60.8-64.4 °F).
Food pairings:
Excellent with red meat, cold cuts and aged cheese.
Aging potential:
Alcohol:
Winemaker:
You may also like from
Il Feuduccio