Barlàn Colline Novaresi Rosé DOC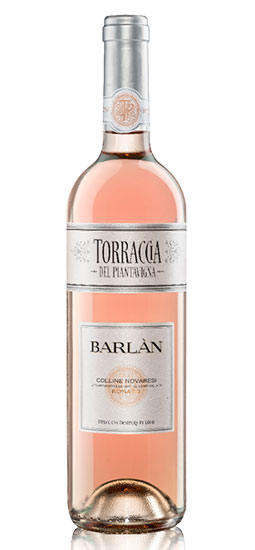 Torraccia del Piantavigna is a family-owned, eco-friendly estate, founded in 1997 by Alessandro Francoli of the Luigi Francoli Distillery. It is located in the foothills of Monte Rosa in the Alta Piemonte area, which is known for longstanding winemaking traditions and elegant world-class wines. The area features a continental climate tempered by cool mountain breezes – which also favor excellent day/night temperature swings – and fluvial, alluvial soils, rich in minerals, that lead to age-worthy wines due to opulent tannins and excellent acid profiles. The wines, styled by enologist Mattia Donna and consulting enologist Beppe Caviola, have a clean and elegant style, partly due to the use of medium-sized Allier oak casks, which allow for long and gentle maturation.
A rosé made from pure Nebbiolo grapes, which are remarkably suited to the task, thanks to their high acidity and aromatic concentration.
The name – Barlàn – is inspired by a traditional carnival character of the village of Ghemme.
Grape Varieties:
Fermentation container:
Fermentation temperature:
Malolactic fermentation:
Aging containers:
Bottling period:
Aging before bottling:
Aging in bottle:
Closure:
Organic:
Vineyard location:
A portion of a vineyard located in the Maretta area, located in the Ghemme DOC area
Vineyard size:
Soil composition:
Fluvial/Alluvial and clay
Vine training:
Total yearly production (in bottles):
Tasting notes:
Misty rose pink in color with golden hues. The nose is fragrant, with floral and fruity notes. On the palate, the wine is fresh, well-balanced and powerfully elegant despite its youth
Serving temperature:
Best served at 10 °C (50 °F)
Food pairings:
Very versatile, great with a variety of dishes. Delicate in flavor and aromas, it will not overpower but has sufficient structure to be drunk with rich and spicy food as a refreshing accompaniment.
Aging potential:
Winemaker:
You may also like from
Torraccia del Piantavigna