Malvasia delle Lipari Passito DOC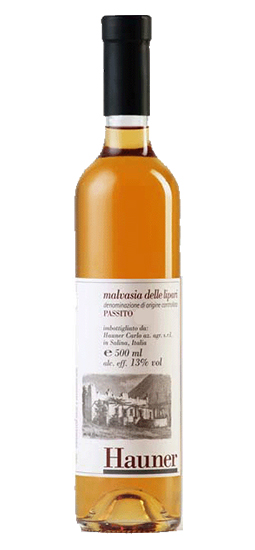 95% Malvasia and 5% Corinto Nero. Hauner Malvasia delle Lipari "Passito" DOC is amber in color with a nose reminiscent of dried figs, dates, ripe apricots, honey and sweet spice. The palate is velvety and complex, with a delicate sweetness on the finish.
"At Hauner we believe that, given the amazing soils, unique landscapes, and fantastic grapes of the Aeolian Islands, we are honor-bound to create wines worthy of such fruit."
Wine exported to
Hong Kong, Canada, USA, Australia
2019 | James Suckling94
2017 | Vini Buoni d'ItaliaCorona
2016 | Wine Enthusiast91
2016 | Wine Advocate91
2014 | Vinous93
2011 | Gambero Rosso3 Bicchieri
Grape Varieties:
95% Malvasia delle Lipari, 5% Corinto Nero
Fermentation container:
Length of alcoholic fermentation:
Type of yeast:
Fermentation temperature:
Malolactic fermentation:
Fining agent:
Aging containers:
Bottling period:
Aging before bottling:
Aging in bottle:
Closure:
Organic:
Vineyard name:
Vineyard location:
On the islands of Salina, off the coast of Sicily
Vineyard size:
Soil composition:
Vine training:
Altitude:
400 meters (1,300 feet) above sea level
Vine density:
Yield:
Exposure:
Years planted:
Age of vines:
Time of harvest:
First vintage of this wine:
Total yearly production (in bottles):
Tasting notes:
Superb concentration; one of those rare wines whose high sugar content is sustained by splendid freshness, making it ideally balanced. Characterized by the classic drying process or appassimento that represents one of Salina's most ancient traditions.
Serving temperature:
Best enjoyed at 8-10 °C (46.4-50 °F).
Food pairings:
Excellent with creamy desserts such as tiramisu and English trifle. Also pairs well with sharp cheese blue-veined cheese, like Gorgonzola or Stilton.
Aging potential:
Alcohol:
Alcohol cont.: 13% by vol.; dry extract: 37.8 g/L; total acidity: 6; residual sugar: 130 g/L; pH: 3.36
Winemaker:
You may also like from
Hauner