Malvasia delle Lipari Passito DOC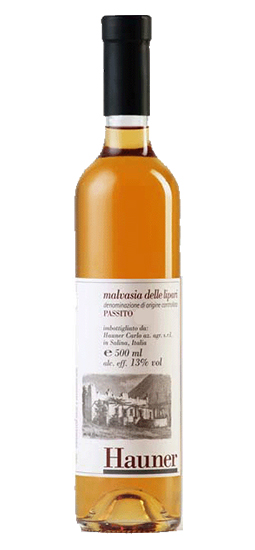 Hauner's flagship wine, his first love. Unique, inimitable, lush. Late-harvested grapes dry on traditional mats during the day and in the cellar at night. The original "nectar of the gods" and where the Hauner story began. Native grapes Malvasia delle Lipari and Corinto Nero are grown on Salina in elevated vineyards with volcanic soil and excellent exposure. The grapes macerate for a short period before being vinified in stainless steel and then in bottle. The color of light caramel with a fragrant inviting nose of apricot, fig and honey. Lingering flavor that invites the second (and third) sip.
Wine exported to
Hong Kong, Canada, USA, Australia
2019 | James Suckling94
2017 | Vini Buoni d'ItaliaCorona
2016 | Wine Enthusiast91
2016 | Wine Advocate91
2014 | Vinous93
2011 | Gambero Rosso3 Bicchieri
Grape Varieties:
95% Malvasia delle Lipari, 5% Corinto Nero
Fermentation container:
Length of alcoholic fermentation:
Type of yeast:
Fermentation temperature:
Malolactic fermentation:
Fining agent:
Aging containers:
Bottling period:
Aging before bottling:
Aging in bottle:
Closure:
Organic:
Vineyard name:
Vineyard location:
On the islands of Salina, off the coast of Sicily
Vineyard size:
Soil composition:
Vine training:
Altitude:
400 meters (1,300 feet) above sea level
Vine density:
Yield:
Exposure:
Years planted:
Age of vines:
Time of harvest:
First vintage of this wine:
Total yearly production (in bottles):
Tasting notes:
Superb concentration; one of those rare wines whose high sugar content is sustained by splendid freshness, making it ideally balanced. Characterized by the classic drying process or appassimento that represents one of Salina's most ancient traditions.
Serving temperature:
Best enjoyed at 8-10 °C (46.4-50 °F).
Food pairings:
Excellent with creamy desserts such as tiramisu and English trifle. Also pairs well with sharp cheese blue-veined cheese, like Gorgonzola or Stilton.
Aging potential:
Alcohol:
Alcohol cont.: 13% by vol.; dry extract: 37.8 g/L; total acidity: 6; residual sugar: 130 g/L; pH: 3.36
Winemaker:
You may also like from
Hauner