Edizione Cinque Autoctoni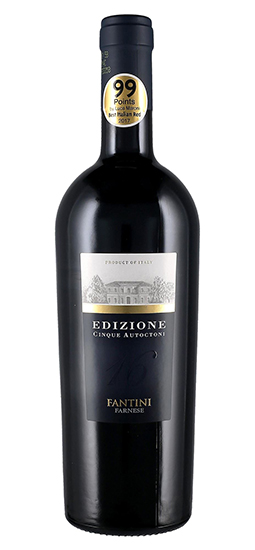 From five autochthonous grapes – hence the name. The vintage is undeclared on the label. The number on the label represents the number of years since the wines first release (1999). The reason for this, is that the blends five autochthonous ("cinque autoctoni") grapes actually come from two different regions, Puglia and Abruzzo. Thus, labeling regulations require it to be a "non-vintage" wine. "We wanted to prove it was possible to achieve nobility by using only the incredible range of native grapes our country has to offer," Valentino confides. Mission accomplished.
Grape Varieties:
33% Montepulciano, 30% Primitivo, 25% Sangiovese, 7% Negroamaro, and 5% Malvasia Nera
Fermentation container:
Length of alcoholic fermentation:
Type of yeast:
Selected yeast, locally harvested
Fermentation temperature:
Length of maceration:
Malolactic fermentation:
Fining agent:
Aging containers:
Container size:
Container age:
Type of oak:
Bottling period:
Aging before bottling:
Aging in bottle:
Closure:
Organic:
Vineyard location:
Colonnella and Ortona, Abruzzo and Sava and Manduria
Vineyard size:
0.5 - 1 hectares (1.2 - 2.47 acres)
Soil composition:
The soil is very diverse, some parts are medium-textured or limestone mix, others are "red earth", with a fine texture and a generally calcareous bedrock
Vine training:
Pergola (Tendone), Guyot and Alberello
Altitude:
50-250 meters (160-820 feet) above sea level
Vine density:
1,500-3,000 plant per hectare
Yield:
Exposure:
Years planted:
Age of vines:
Time of harvest:
Late September to early November
Total yearly production (in bottles):
Tasting notes:
Very deep garnet red. Very intense andpersistent with notes of cherry and blackcurrant, herbs,cinnamon, cloves, cocoa, licorice and hints of mineral. Great structure, good balance between alcohol andfreshness, velvety tannins, very persistent with a longfinish, ready to drink, or can well be aged for long
Serving temperature:
Best served at 16-18 °C (60.8-64.4 °F).
Food pairings:
Excellent with rich first courses, red meat, semi-aged and aged cheese.
Aging potential:
Alcohol:
Winemaker:
You may also like from
Fantini