Chianti Classico Riserva "Croce" DOCG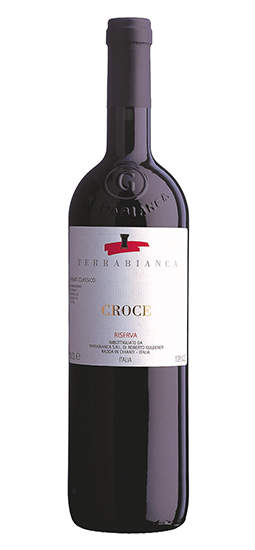 Croce is made from six clones of Sangiovese, grown in the heart of Chianti Classico. The grapes are harvested in early fall, and vinified in stainless steel tanks at a controlled temperature. The wine ages fifteen months in Slavonian oak barrels (50 hectoliters in capacity) and French oak (second use) and six months in bottle before release.
The word croce means "cross," and is named for an ancient crucifix standing tall above the vineyard. Lovely aromas of black cherries, plums, vanilla, and licorice on the nose, confirmed on a full, round, smooth, and persistent palate showing fruity notes and a pleasing structure.
Wine exported to
Bermuda, USA, New Zealand, Puerto Rico
2014 | Wine Advocate91
2014 | James Suckling91
2012 | Wine Spectator93
2011 | The International Wine Review90
2011 | Vinous90
2011 | Wine Enthusiast91
2010 | International Wine Cellar90
Grape Varieties:
Fermentation container:
Length of alcoholic fermentation:
Type of yeast:
Fermentation temperature:
Maceration technique:
Traditional whit délestage
Length of maceration:
Malolactic fermentation:
Fining agent:
Aging containers:
Container size:
Container age:
Type of oak:
Bottling period:
Aging before bottling:
Aging in bottle:
Closure:
Organic:
Vineyard name:
Vineyard location:
Radda in Chianti, Tuscany
Vineyard size:
Soil composition:
Calcareous-cretaceous substrata of sand and clay and red earth
Vine training:
Altitude:
350-412 meters (1,150-1,350 feet) above sea level
Vine density:
2,260-2,510 plants per acre
Yield:
Exposure:
Years planted:
Age of vines:
Time of harvest:
First vintage of this wine:
Total yearly production (in bottles):
Tasting notes:
Brilliant ruby red with slight violet highlight; sour cherry, plum, vanilla and licorice on the nose, confirmed on a full, round, smooth and persistent palate showing fruity notes and pleasing structure.
Serving temperature:
Best served at 16-18 °C (60.8-64.4 °F).
Food pairings:
Pairs well with red meats, game, and aged cheese.
Aging potential:
Alcohol:
Winemaker:
You may also like from
Arillo in Terrabianca