Chianti Classico Riserva "Croce" DOCG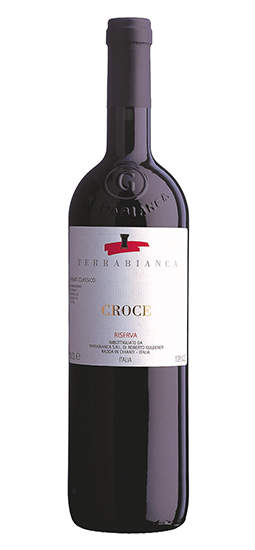 Terrabianca is located in the heart of Chianti Classico (about 12 kilometers outside of Siena and 15 kilometers outside of Florence), in an area with unusual terrain whose characteristics inspired the name: "Terra Bianca" actually means "white terrain" in Italian and it refers to the light color of the soil. After eight hundred years (when this soil and property seems to have been first mentioned), there is still a strata of chalk, sand and clay, which is predominantly calcareous, and it lends itself to the making of gorgeous wines. Roberto Guldener and his wife Maja currently own the winery and have greatly invested in the vineyards, replanting, researching and selecting clones that would thrive in this soil. Since 1988, the winery has grown to 124 hectares (307 acres), with hillside vineyards, manicured olive groves, and thick woodlands at an altitude of 250-500 (820-1,640 feet) above sea level. The vineyards are all high density and the choice of clones aims to bring out the best in each individual terroir. Owner Roberto Guldener believes that "Wine is a lifestyle, a creation that needs to match life; this is what makes it so fascinating. In our cellar, we have all the vintages produced from 1989 onwards: our history, a life dedicated to wine." Terrabianca has a second property in the warm mineral-rich Maremma, 43 miles away, called Il Tesoro ("Treasure", in Italian). This second estate is home to 4,000 olive trees, some of which are 350 years old, as well as Sangiovese, Merlot and Cabernet Sauvignon vineyards; the latter two varieties are particularly suited to this distinct terroir. All of the grapes are transferred to Radda within a few hours of picking, where they are vinified and bottled.
Croce is made from six clones of Sangiovese and a tiny bit of Canaiolo, grown in the heart of Chianti Classico. The grapes are harvested in early fall, and vinified in stainless steel tanks at a controlled temperature. The wine ages fifteen to eighteen months in Slavonian oak barrels (50 hectoliters in capacity) and French oak (second use) and twelve months in bottle before release.
The word croce means "cross," and is named for an ancient crucifix standing tall above the vineyard. Lovely aromas of black cherries, plums, vanilla and licorice on the nose, confirmed on a full, round, smooth and persistent palate showing fruity notes and a pleasing structure.
Wine exported to
Bermuda, USA, New Zealand, Puerto Rico
2014 | Wine Advocate91
2014 | James Suckling91
2012 | Wine Spectator93
2011 | The International Wine Review90
2011 | Vinous90
2011 | Wine Enthusiast91
2010 | International Wine Cellar90
Grape Varieties:
Fermentation container:
Length of alcoholic fermentation:
Type of yeast:
Fermentation temperature:
Maceration technique:
Traditional whit délestage
Length of maceration:
Malolactic fermentation:
Fining agent:
Aging containers:
Container size:
Container age:
Type of oak:
Bottling period:
Aging before bottling:
Aging in bottle:
Closure:
Organic:
Vineyard name:
Vineyard location:
Radda in Chianti, Tuscany
Vineyard size:
Soil composition:
Calcareous-cretaceous substrata of sand and clay and red earth
Vine training:
Altitude:
350-412 meters (1,150-1,350 feet) above sea level
Vine density:
2,260-2,510 plants per acre
Yield:
Exposure:
Years planted:
Age of vines:
Time of harvest:
First vintage of this wine:
Total yearly production (in bottles):
Tasting notes:
Brilliant ruby red with slight violet highlight; sour cherry, plum, vanilla and licorice on the nose, confirmed on a full, round, smooth and persistent palate showing fruity notes and pleasing structure.
Serving temperature:
Best served at 16-18 °C (60.8-64.4 °F).
Food pairings:
Pairs well with red meats, game, and aged cheese.
Aging potential:
Alcohol:
Winemaker:
You may also like from
Arillo in Terrabianca