Campaccio "Collezione" Toscana IGT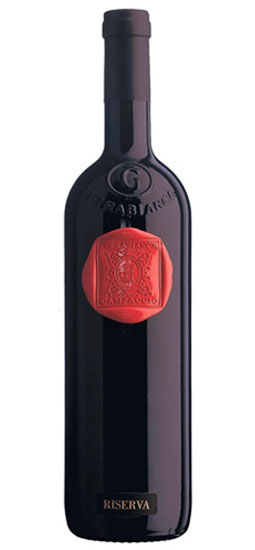 Campaccio's cellar reserve is a blend of Sangiovese, Cabernet Sauvignon, and Merlot from Massa Marittima in Maremma (loamy soil evolving into red earth). The vines face south and the grapes are generally harvested in early fall. Each variety is separately vinified in stainless steel tanks. The wine ages in French oak (300 liters) for about twenty-four months and in bottle for at least twelve months. A lovely bouquet of red fruit, notes of vanilla and licorice, and hints of toasted coffee beans.
Unbelievable richness and complexity on the silky palate. This reserve is graced with a red lacquer stamp in place of a paper label.
Wine exported to
Bermuda, USA, New Zealand, Puerto Rico
Grape Varieties:
70% Sangiovese, 20% Cabernet Sauvignon, 10% Merlot
Fermentation container:
Length of alcoholic fermentation:
Type of yeast:
Fermentation temperature:
Maceration technique:
Traditional with délestage
Length of maceration:
Malolactic fermentation:
Fining agent:
Aging containers:
Container size:
Container age:
Type of oak:
Bottling period:
Aging before bottling:
Aging in bottle:
Closure:
Organic:
Vineyard name:
Vineyard location:
From vineyards located in Radda in Chianti and Massa Marittima, Maremma, Tuscany
Vineyard size:
Soil composition:
Calcareous-cretaceous substrata of sand and clay in Radda and northwestern exposure and loamy-textured soil and red earth in Maremma
Vine training:
Altitude:
140- 160 meters above sea level
Exposure:
Years planted:
Age of vines:
Time of harvest:
First vintage of this wine:
Total yearly production (in bottles):
Tasting notes:
Intense, deep ruby with slight garnet hues; a bouquet of red fruit, notes of vanilla and licorice, hints of toasted coffee. Unbelievable richness, and complexity on the palate, structured, silky texture.
Serving temperature:
Best served at 16-18 °C (60.8-64.4 °F).
Food pairings:
Pairs well with red meats, game, and aged cheese.
Aging potential:
Alcohol:
Winemaker:
You may also like from
Arillo in Terrabianca