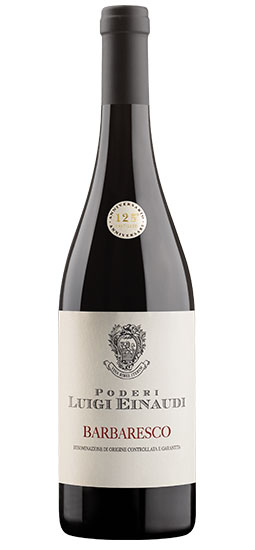 100% Nebbiolo. Poderi Einaudi's latest edition to its stellar lineup.
"Only with the care and passion that Einaudi takes in the vineyards, can we grow grapes that are healthy and of high quality which, in turn, are used to produce high-quality wines that will cellar well."
Wine exported to
Bermuda, USA, New Zealand, Puerto Rico
Grape Varieties:
Fermentation container:
Length of alcoholic fermentation:
Type of yeast:
Fermentation temperature:
Aging containers:
Container size:
Type of oak:
Bottling period:
Aging before bottling:
Aging in bottle:
Closure:
Organic:
Vineyard location:
Bricco Micca Cru in Neive
Soil composition:
Vine training:
Altitude:
Vine density:
Exposure:
Years planted:
Time of harvest:
Total yearly production (in bottles):
Serving temperature:
Best served at 16-18 °C (60.8-64.4 °F).
Food pairings:
Best with rich, structured dishes, red meat, game and aged cheese.
Aging potential:
Winemaker:
You may also like from
Poderi Einaudi