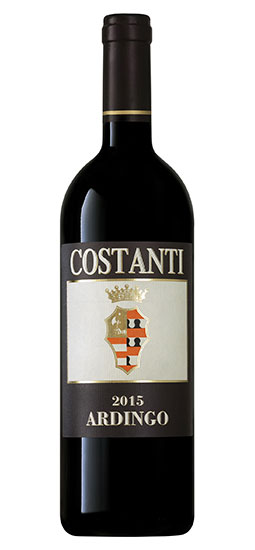 The noble Costanti family goes all the way back to the fifteenth century. One of several famous counts, Tito Costanti was a lawyer and winemaker, and was actually one of the very first to use the name Brunello for the celebrated Montalcino red. And the methods he used were strikingly similar to those used for Brunello and Rosso di Montalcino today. At present, the sole living descendant of the Sienese family, Andrea Costanti, carries the torch, strengthening the family's reputation for making top wines with great innovation. His aim has always been to create elegant, complex and long-lasting wines that bring out the best of the terroir. Andrea achieved this by relying on his own excellent instinct for wine, and an in-depth knowledge of the terrain's geological components. In time, these natural skills were perfected, so that he eventually styled the range together with enologist Vittorio Fiore.
The range has the unmistakable imprint of the Matrichese cru, yielding Brunellos of unparalleled elegance and complexity, with luscious, focused berry fruit, remarkable structure and exquisite balance.
Ardingo is made from 70% Merlot and 30% Sangiovese. The Merlot vineyard – Vigna Montosoli – which was planted about 30 years ago, is just 7 kilometers away from Costanti's main vineyards in upper Montalcino and is 350 meters above sea level, just a bit lower than Costanti's other vineyards. The vineyard is located north/northeast of Montalcino on the Montosoli hill and enjoys western exposure and clay soil. The Sangiovese comes from a vineyard Andrea owns on the same hill.
The wine is named for Ardengo della Gherardesca (seen written 'Ardingo' in some places), who was a valiant knight from the Longobard family of the same name who fought the Florentines alongside the Sienese 800 years ago. Perfect for this powerful wine.
Wine exported to
Japan, Bermuda, USA, Canada, Australia
Grape Varieties:
70% Merlot, 30% Sangiovese
Fermentation container:
Length of alcoholic fermentation:
Type of yeast:
Fermentation temperature:
Length of maceration:
Malolactic fermentation:
Fining agent:
Aging containers:
Barrique (Merlot) and Tonneaux (Sangiovese)
Container size:
Aging before bottling:
Aging in bottle:
Closure:
Organic:
Vineyard name:
Vineyard location:
Soil composition:
Vine training:
Altitude:
350 meters (1,148 feet) above sea level
Exposure:
Years planted:
Time of harvest:
First vintage of this wine:
Serving temperature:
Best served at 16-18 °C (60.8-64.4 °F).
Aging potential:
Alcohol:
Winemaker:
Andrea Costanti and Vittorio Fiore
You may also like from
Conti Costanti