Pipoli Greco-Fiano Basilicata IGT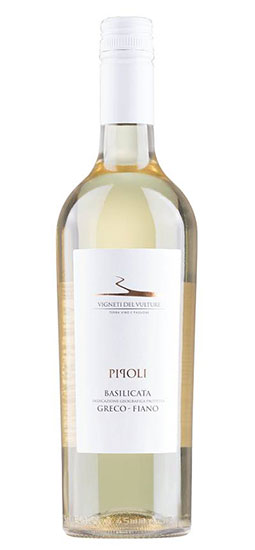 From grapes grown in the Maschito, Irsina and Acerenza areas of the Basilicata region, just a few miles southeast of the extinct Vulture volcano. Colonized by the Greeks around the 7th century B.C., the area is rich in ancient folklore and myth. Mostly hilly and mountainous, it is wedged between the two seas of the Mediterranean basin and is one of the country's least populated areas; the climate is mostly continental.
The grapes for this wine are destemmed and soft pressed and are carefully preserved to avoid contact with oxygen and maintain its fresh, aromatic bouquet. The wine then rests on its noble lees, in stainless steel, for five to six months.
2020 | Wine Enthusiast90
2019 | Luca Maroni94
2016 | Ultimate Wine Challenge89
2016 | Wine Spectator89
2014 | Wine Advocate88
Grape Varieties:
Fermentation container:
Type of yeast:
Fermentation temperature:
Length of maceration:
Malolactic fermentation:
Aging containers:
Bottling period:
Closure:
Organic:
Vineyard location:
Maschito, Irsina, Acerenza
Soil composition:
Volcanic soil, rich in clay, calcium, nitrogen and tuff
Vine training:
Altitude:
500-600 meters (1,640-1,969 feet) above sea level
Yield:
Exposure:
Years planted:
Time of harvest:
Tasting notes:
Straw yellow with greenish reflections, the nose is intense, showing rich aromas and intriguing notes of tropical fruit, confirmed on a fresh, lively palate marked by zesty acidity.
Food pairings:
Excellent with fish, but wonderful as an aperitif.
You may also like from
Vigneti del Vulture