Verdicchio Classico dei Castelli di Jesi DOC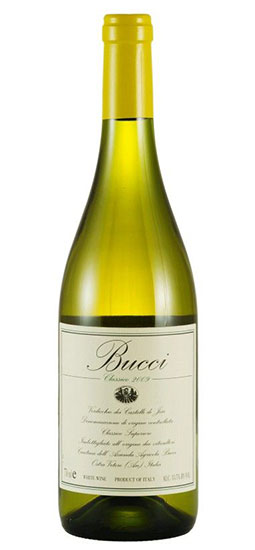 The grapes from each vineyard are vinified separately and blended later to achieve the winemaker's goals. Fragrant and flavorful, a classic Marche wine that ages only in stainless steel to ensure the characteristic aromas and freshness of the native grape remain pure.
Wine exported to
Canada, USA, Puerto Rico, Turks and Caicos
2021 | Wine Enthusiast90
2021 | Vinous91
2016 | Gambero Rosso3 Bicchieri
2015 | James Suckling88
2010 | Decanter93
2011 | International Wine Cellar90
2010 | Wine Advocate90
Grape Varieties:
Fermentation container:
Type of yeast:
Aging containers:
Container size:
Type of oak:
Aging before bottling:
Closure:
Organic:
Vineyard name:
Villa Bucci, Belluccio, Montefiore and Baldo
Vineyard location:
Soil composition:
Vine training:
Altitude:
200-360 meters (656-1,181 feet) above sea level
Yield:
Exposure:
East/Southern/southeastern
Age of vines:
Total yearly production (in bottles):
Tasting notes:
Deep straw yellow. Pleasingly fruity with a persistent bouquet, showing notes of Golden Delicious apples and almonds. Good body and silky texture on the well-balanced and elegant palate.
Serving temperature:
Best served at 12-14 °C (53.6-57.2 °F).
Food pairings:
Ideal as an aperitif, or with pasta, fish risotto, white meat, and mild cheese.
Alcohol:
You may also like from
Bucci