Rosso Piceno Superiore Pongelli DOC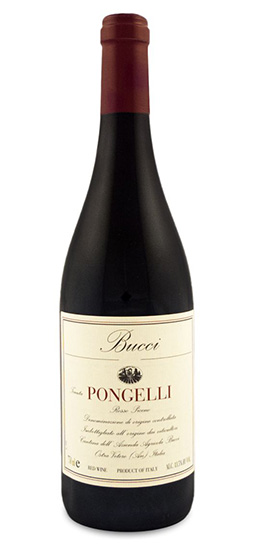 Wonderfully easy to drink, Sangiovese grapes balance out the normally aggressive tannins of Montepulciano. In fact, the wine can be served at cooler temperatures alongside white meat and fish. A true all-around wine.
Wine exported to
Canada, USA, Puerto Rico, Turks and Caicos
2019 | Vinous90
2016 | James Suckling91
2013 | Wine Enthusiast92
2009 | Decanter91
2010 | International Wine Cellar88
2010 | Wine Advocate88
Grape Varieties:
50% Montepulciano, 50% Sangiovese
Fermentation container:
Type of yeast:
Malolactic fermentation:
Aging containers:
Container size:
Type of oak:
Aging before bottling:
Aging in bottle:
Closure:
Organic:
Vineyard name:
Vineyard location:
Soil composition:
Vine training:
Altitude:
200-220 meters (656-721) feet and 250-280 meters (820-918 feet) above sea level,
Yield:
Exposure:
Age of vines:
Time of harvest:
Total yearly production (in bottles):
Tasting notes:
Lively, brilliant garnet color. Very appealing and well balanced, with intense plummy aromas.
Serving temperature:
Best served at 12-14 °C (53.6-57.2 °F).
Food pairings:
Wonderful with roasted white meat, chickpea soup, mushrooms, and rich fish dishes, including soup.
Alcohol:
Winemaker: