Rosso Piceno Superiore Pongelli DOC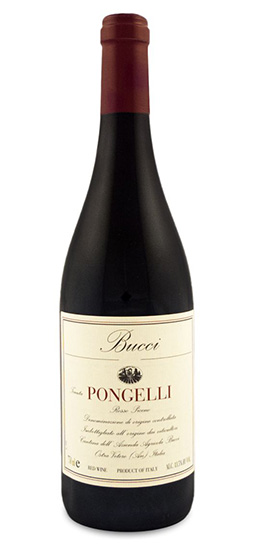 Azienda Agricola F.lli Bucci, which has been in the agricultural business for generations, today manages 380 hectares of estate-owned land in the heart of the Castelli di Jesi appellation in the pristine, rolling hills of Le Marche.
Ampelio Bucci, a marketing expert, professor and of course top winemaker, dedicated himself to the production of quality wines in the 1980s, becoming a trailblazer, creating white wines that could and should be aged. In doing so, he challenged many of the Italian white winemaking tenets (taking inspiration from the French) of that era, finding great success and a virtual cult following.
The company owns and manages eight organic vineyards, totaling 31 hectares – mostly Verdicchio, with some Montepulciano and Sangiovese. The low yield per hectare (50-70 quintals), the venerable age of some of the vines (some are upwards of 50 years) and Azienda Agricola F. Bucci's winemaking expertise allows for the production of four excellent wines (two whites and two reds), valued in many countries all over the world, proven by the long list of accolades received year after year.
Azienda Agricola F.lli Bucci has also been running a totally organic operation for over thirty years. In fact, it has become one of the keys to Bucci's time-honored excellence.
Tenuta Pongelli is the name of one of Villa Bucci's properties in the plains and lower hills of Ostra Vetere. It was named after Count Pongelli, from Como, who founded the farm in 1700 and interestingly, he was the top cultivator of silkworms.
Wonderfully easy to drink, Sangiovese grapes balance out the normally aggressive tannins of Montepulciano. In fact, the wine can be served at cooler temperatures alongside white meat and fish. A true all-round wine.
Wine exported to
Canada, USA, Puerto Rico, Turks and Caicos
2016 | James Suckling91
2013 | Wine Enthusiast92
2009 | Decanter91
2010 | International Wine Cellar88
2010 | Wine Advocate88
Grape Varieties:
50% Montepulciano, 50% Sangiovese
Fermentation container:
Type of yeast:
Malolactic fermentation:
Aging containers:
Container size:
Type of oak:
Aging before bottling:
Aging in bottle:
Closure:
Organic:
Vineyard name:
Vineyard location:
Soil composition:
Vine training:
Altitude:
200-220 meters (656-721) feet and 250-280 meters (820-918 feet) above sea level,
Yield:
Exposure:
Age of vines:
Time of harvest:
Total yearly production (in bottles):
Tasting notes:
Lively, brilliant garnet color. Very appealing and well balanced, with intense plummy aromas.
Serving temperature:
Best served at 12-14 °C (53.6-57.2 °F).
Food pairings:
Wonderful with roasted white meat, chickpea soup, mushrooms, and rich fish dishes, including soup.
Alcohol:
Winemaker: