Rosso Piceno Riserva Villa Bucci DOC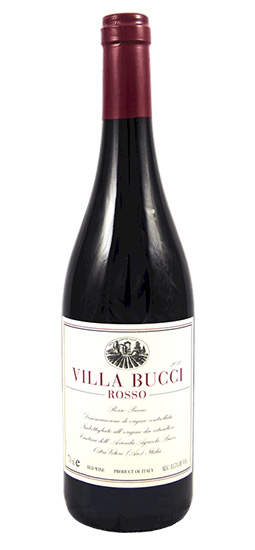 With equal percentages of Sangiovese and Montepulciano, you can expect a classic Marche red, with lovely depth, elegance, and tannins. For an interesting pairing, serve cool alongside flavorful fish.
Wine exported to
Canada, USA, Puerto Rico, Turks and Caicos
2020 | Wine Enthusiast90
2018 | Gambero Rossotre bicchieri
2015 | James Suckling93
2008 | Vinous90
2008 | Wine Advocate90
Grape Varieties:
50% Montepulciano, 50% Sangiovese
Fermentation container:
Type of yeast:
Malolactic fermentation:
Aging containers:
Aging before bottling:
Aging in bottle:
Closure:
Organic:
Vineyard name:
Vineyard location:
Soil composition:
Vine training:
Altitude:
200-220 meters (656-721) feet and 250-280 meters (820-918 feet) above sea level,
Yield:
Exposure:
Years planted:
Age of vines:
Time of harvest:
Total yearly production (in bottles):
Tasting notes:
Intense aromas of fresh red plums, with notes of spices and coffee on the nose. The lush, silky-textured palate has great concentration and notes of wild raspberry, dried herbs and porcini mushrooms.
Serving temperature:
Best served at 12-14 °C (53.6-57.2 °F).
Food pairings:
Wonderful with white and red meat, quail and fried fish.
Aging potential:
Alcohol:
Winemaker: