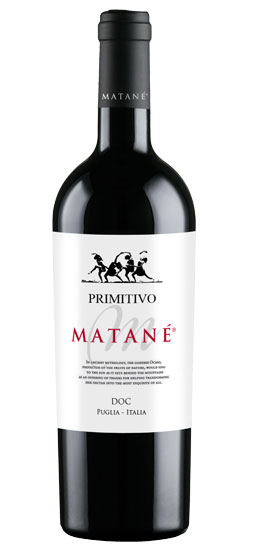 Primitivo thrives in the particularly hot and dry weather of the Salento area leading to intense wines with beautiful notes that range from dark-skinned fruits to sweet spices. It is especially recognizable for its inky color and blackberry, pepper and anise aromas. Primitivo, as well as Zinfandel, are clones of a Croatian grape called Crljenak.
Wine exported to
Bermuda, USA, Puerto Rico, China, New Zealand, Turks and Caicos, Switzerland; United Kingdom
Grape Varieties:
Fermentation container:
Aging containers:
Soil composition:
Altitude:
100 meters (330 feet) above sea level
Tasting notes:
Deep ruby red with violet reflections; fruity, spicy and intense bouquet with notes of plum, cherries, rosemary and vanilla. Full, mellow, well balanced.
Serving temperature:
Best served at 16-18 °C (60.8-64.4 °F).
Food pairings:
Wonderful paired with hearty first courses, meat and aged cheese.
Winemaker:
Filippo Baccalaro and Mario Ercolino
You may also like from
Matané