Primitivo di Manduria DOC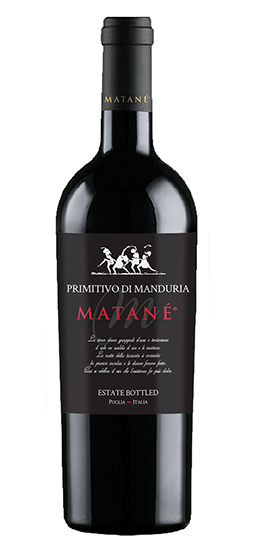 Matané wines comes from Salento, Puglia's most southern province, located right up against the Ionian and Adriatic seas. In fact, the gorgeous vineyards are windswept by salty breezes coming off the sea. The area's amazing palette of colors – with its blue-green waters and deep red soils – and dynamic sensations give Salentino wines an extra layered depth, unique to the region.
The wine was named for its owners – Maria, Tara and Neil – who partnered with a team of experts to make a wine that fully represents this region.
The top wine of the range, the quintessence of Matané, it is made from pure Primitivo grapes grown in the appellation of Manduria. The wine ages four months in French oak barrique. It shows remarkable structure, which is mellowed out by the grapes typical velvety nature.
Wine exported to
Switzerland, Slovakia, Bermuda, Austria, United Kingdom, Canada, USA, Singapore, New Zealand, Serbia, Puerto Rico, Turks and Caicos
2019 | Luca Maroni91
2017 | Wine Advocate90
2016 | James Suckling89
2012 | Wine Spectator90
2012 | Wine Enthusiast89
Grape Varieties:
Fermentation container:
Aging before bottling:
Vineyard location:
Soil composition:
Altitude:
100 meters (330 feet) above sea level
Tasting notes:
Ruby red color with rich violet reflections; opulent bouquet, reminiscent of ripe cherries and plums, integrated by pleasing nuances of chocolate and vanilla. Remarkable structure, softened by the roundness and silkiness characteristic of Primitivo.
Serving temperature:
Best served at 16-18 °C (60.8-64.4 °F).
Food pairings:
Hearty first courses, lamb and game with elaborate sauces, and hard cheeses.
Alcohol:
Winemaker:
Filippo Baccalaro and Mario Ercolino
You may also like from
Matané