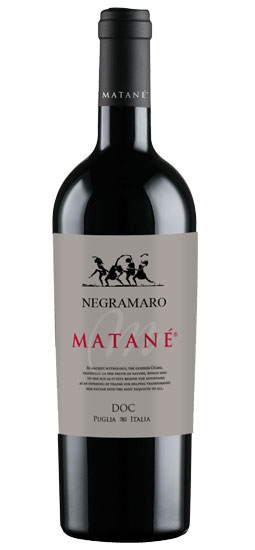 Pure Negroamaro, native to Puglia. Inky, rustic, fragrant and earthy. A lovely accompaniment to hearty dishes. No oak aging.
Wine exported to
Bermuda, USA, Puerto Rico, Switzerland, China, New Zealand, Turks and Caicos
Grape Varieties:
Fermentation container:
Type of yeast:
Malolactic fermentation:
Aging containers:
Soil composition:
Altitude:
100 meters (330 feet) above sea level
Tasting notes:
Purplish red with dark violet, almost black reflections; intense, persistent nose with plenty of fruit, particularly black currant and red berries, integrated with spicy notes, especially thyme. Full, velvety, well-balanced, with a flavorful finish.
Serving temperature:
Best served at 16-18 °C (60.8-64.4 °F).
Food pairings:
Wonderful paired with hearty first courses, meat and aged cheese.
Aging potential:
Alcohol:
Winemaker:
Filippo Baccalaro and Mario Ercolino
You may also like from
Matané