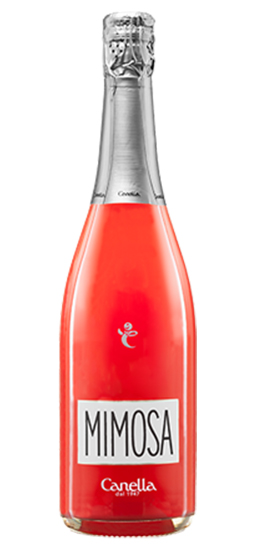 Canella's Blood Orange Mimosa is a combination of sunny Sicilian summers and the coolest of Veneto's spring waters. Packed with wholesome vitamin C, low in calories and alcohol, it's utterly delicious, and you don't have to feel guilty drinking it! A refreshing and luscious cocktail perfect for any occasion.
Wine exported to
Jamaica, Canada, USA, Puerto Rico, Australia
Grape Varieties:
80% Prosecco and 20% juice and pulp of Sicilian blood oranges (Moro, Tarocco and Sanguinello varieties)
Fermentation container:
Fermentation temperature:
Aging containers:
Container size:
Closure:
Organic:
Vineyard location:
Treviso with orange groves in Sicily
Soil composition:
Vine training:
Time of harvest:
Total yearly production (in bottles):
Tasting notes:
Light, fruity, refreshing and flavorsome; a juicy, zesty thirst-quencher.
Serving temperature:
Best served cold (8-10 °C, 46.4-50 °F).
Food pairings:
Best served as an aperitif.
Alcohol:
Winemaker:
You may also like from
Canella Cocktails