Canella Cocktails Puccini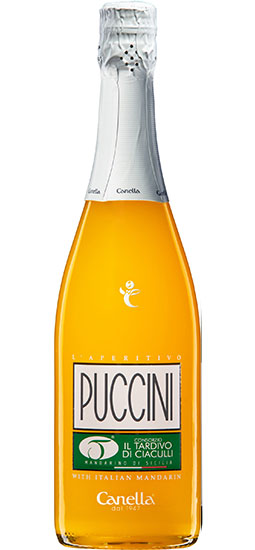 75% Canella sparkling wine & 25% mandarin orange juice from Sicily.  Canella Puccini is a brilliant yellow color. Very strong notes of mandarin, citrus, and citrus peel. The palate is bursting with the sweetness of the mandarin oranges, balanced by the good acidity of the sparkling wine.
Puccini is Canella's "cocktail 2.0". Canella works with the Consorzio "Tardivo di Ciaculli", a Slow Food Presidio to pair the best fruit with their sparkling wines. This Mandarin orange is called "tardivo" (meaning late), because it is harvested in late February, later than the average harvesting of Mandarins oranges. It has a higher sugar content and thus pairs perfectly with Canella's zesty bubbles.
"The family and the terroir express themselves in each bottle. Tradition and modernity perfectly co-exist in a glass of Canella sparkling wine, satisfying both the palate and the soul and making every moment a special occasion."
Wine exported to
Canada, USA, Singapore, Australia, Turks and Caicos
Grape Varieties:
75% Glera, 25% Mandarin Orange juice and pulp
Fermentation container:
Closure:
Serving temperature:
Food pairings:
Very good as an aperitif; perfect for brunch. Try after dinner with a splash of bitters for something unique.
Aging potential:
You may also like from
Canella Cocktails