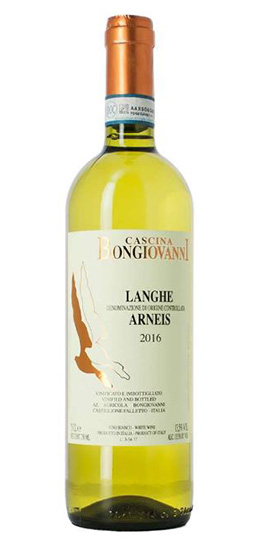 This native Piedmont white grape was once used to "lighten" Nebbiolo but has seen an increase in popularity as of late and is a staple at many a happy hour, thanks to its strong and inviting perfumes. Bongiovanni Arneis ages only in stainless steel to maintain this lightness.
Wine exported to
Canada, Puerto Rico, Singapore
2019 | James Suckling90
2015 | Wine Spectator88
Grape Varieties:
Fermentation container:
Length of alcoholic fermentation:
Type of yeast:
Fermentation temperature:
Malolactic fermentation:
Fining agent:
Aging containers:
Container size:
Bottling period:
Aging before bottling:
Aging in bottle:
Closure:
Organic:
Vineyard location:
Govone, Piedmont; Diamo, Piedmont
Vineyard size:
Soil composition:
Vine training:
Altitude:
300 meters (984 feet) above sea level
Vine density:
Yield:
90 quintals reduced depending on the thinning
Exposure:
Years planted:
Age of vines:
Time of harvest:
First vintage of this wine:
Total yearly production (in bottles):
Tasting notes:
Light straw yellow in color; delicate fruit aromas of pear and white peach evolve into complex floral notes with hints of aniseed, confirmed on the palate.
Serving temperature:
Best served at 10-12 °C (50-53.6 °F).
Food pairings:
Excellent as an aperitif or served with light dishes.
Aging potential:
Alcohol:
Winemaker:
You may also like from
Cascina Bongiovanni