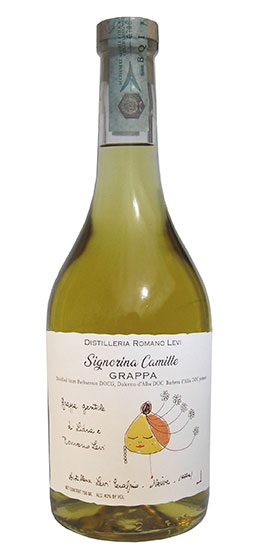 Pomace of the great wines of Piedmont DOC-DOCG, comes from the Langhe, a place where the vine has found one of its highest expressions; the Grappa that results is a unique and exciting balance derived from curing in underground pits and a long period of aging in wood.
Grappa chamomile is obtained by macerating directly fragrant chamomile flower heads with Langhe Nebbiolo Grappa, according to a recipe fortunately found in the diaries of Lidia Levi.
Category:
Type:
Still type:
Open Flame copper pot still
Distillation System:
"Grappa distillata da ignari" (Grappa distilled by unaware people) with the discontinuous method with direct fire and submerged pomace. The steam generated from the distillation of pomace, enriched with alcohol-aromatic components, is condensed with subsequent fractional distillation of the phlegm in a copper column with 7 plates. This procedure, perfected by Romano Levi and still strictly adhered to, ensures the perfect conservation of the aromatic components, important for the organoleptic characteristics of Grappa.
Vintage:
Aging Containers:
Classic Piedmontese casks
Container Size:
Aging Before Bottling:
Closure:
Alcohol:
Tasting Notes:
Light yellow, with herbal and fresh flowers of Camomile notes, soft and pleasant at the taste with long lasting Camomile note in a pure grappa intensity.
Serving Temperature:
Food Pairings:
Almond-based dessert or a simple crostata. Cheeses, particularly herbed.
You may also like from
Levi