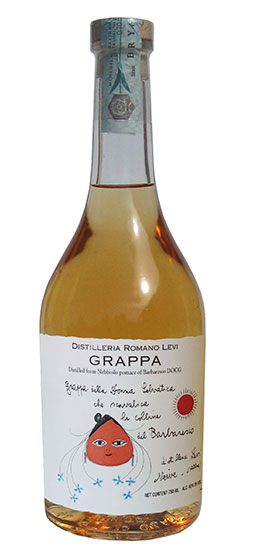 The still dripping with must, the freshly-pressed skins, stems and seeds of grapes grown on DOCG vineyards located in Neive, Barbaresco, Trezzo, Treiso and Alba are immediately compressed into underground pits for a natural curing process that is able to extract all the aromas and flavours of the nebbiolo grapes.
Category:
Type:
Still type:
Open Flame copper pot still
Distillation System:
"Grappa distillata da ignari" (Grappa distilled by unaware people) with the discontinuous method with direct fire and submerged pomace. The steam generated from the distillation of pomace, enriched with alcohol-aromatic components, is condensed with subsequent fractional distillation of the phlegm in a copper column with 7 plates. This procedure, perfected by Romano Levi and still strictly adhered to, ensures the perfect conservation of the aromatic components, important for the organoleptic characteristics of Grappa.
Vintage:
Aging Containers:
Classic Piedmontese casks
Container Size:
Aging Before Bottling:
Closure:
Alcohol:
Tasting Notes:
Light amber,Herbs, light wood and vanille at the beginning,Taste equilibrated with long lasting note of liquirizi and vanille
Serving Temperature:
Food Pairings:
Chocolate, hazelnut, or amaretto desserts, as well as spiced desserts in general
You may also like from
Levi