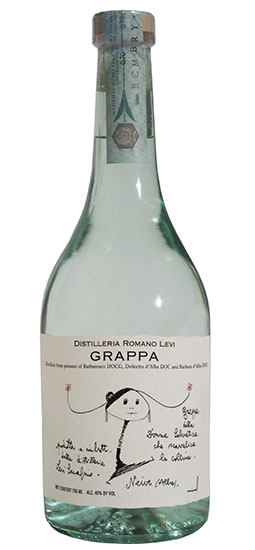 The still dripping with must, the freshly-pressed skins, stems and seeds of grapes grown on DOC and DOCG vineyards in Neive, Barbaresco, Trezzo, Treiso and Alba are blended following an old Serafino Levi recipe, and immediately compressed into underground pits for a natural curing process that is able to extract all the aromas and flavours of the grapes.
Category:
Type:
Still type:
Open Flame copper pot still
Distillation System:
"Grappa distillata da ignari" (Grappa distilled by unaware people) with the discontinuous method with direct fire and submerged pomace. The steam generated from the distillation of pomace, enriched with alcohol-aromatic components, is condensed with subsequent fractional distillation of the phlegm in a copper column with 7 plates. This procedure, perfected by Romano Levi and still strictly adhered to, ensures the perfect conservation of the aromatic components, important for the organoleptic characteristics of Grappa.
Vintage:
Aging Containers:
Classic Piedmontese casks
Container Size:
Aging Before Bottling:
Closure:
Alcohol:
Tasting Notes:
Light yellow, with herbal and fresh flowers of Camomile notes, soft and pleasant at the taste with long lasting Camomile note in a pure grappa intensity.
Serving Temperature:
Food Pairings:
Almond-based dessert or a simple crostata. Cheeses, particularly herbed.
You may also like from
Levi