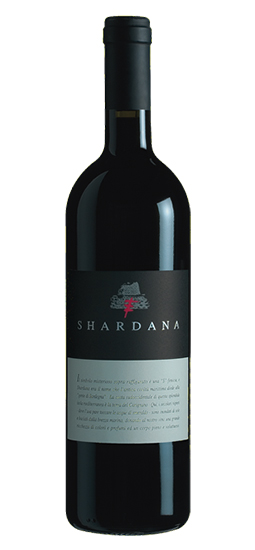 Neil and Maria Empson teamed with the Santadi team – selecting the winery's seafront vineyards for the outstanding terrain, microclimate, and ampelographic history – to make their own full-bodied, voluptuous red from 85% native (partly pre-Phylloxera) Carignano and 15% Shiraz. The style is inspired by Sulcis' exceptional terroir and reflects the region's power-packed, layered complexity. Sulcis includes some of the hottest, driest and wildest areas on the island, providing the perfect terroir for high-quality viticulture, and an ideal home for Carignano. This sturdy grape is extremely ancient, probably originating in Carifera (Spain). Through the centuries, the Sardinian version acquired an identity of its own, quite distinct from its genetic cousin, French Carignan.
A blend of approximately 85% Carignano, partly pre-Phylloxera, and 15% Syrah located in southern Sulcis (which enjoys hot and dry summers and mild winters). The soil is mostly sandy and calcareous. After manual harvest in early fall, fermentation takes place in stainless steel tanks, with 14 days of
maceration. The wine then ages in fine-grained barrique for at least 12 months. Deep crimson red with a rich, luscious nose, featuring fruity and floral aromas and spicy notes of vanilla and black pepper. Well-balanced palate, highly extracted and structured, round, voluptuous and elegant.
Wine exported to
Bermuda, USA, Canada, Singapore, Japan
2013 | Vinous92
2012 | Wine Spectator90
2012 | Wine Advocate91
2009 | James Suckling92
Grape Varieties:
85% Carignano, 15% Shiraz
Fermentation container:
Length of alcoholic fermentation:
Type of yeast:
Fermentation temperature:
Maceration technique:
Length of maceration:
Malolactic fermentation:
Aging containers:
Container size:
Container age:
Type of oak:
Aging before bottling:
Aging in bottle:
Closure:
Vineyard location:
Soil composition:
Vine training:
Time of harvest:
Mid-September to mid-October
First vintage of this wine:
Total yearly production (in bottles):
Tasting notes:
Very intense, dark, deep ruby red; ample and complex nose of black cherry fruit, leather and game laced with subtle spice, vanilla, black pepper, dried flowers; palate shows ripe cherries, well integrated oak and spices, smooth, silky texture and layered complexity
Serving temperature:
Best served at 16-18 °C (60.8-64.4 °F).
Alcohol:
Winemaker:
Riccardo Curreli - Consultant: Giorgio Marone
You may also like from
Shardana
Sorry, no other wine for this producer.