Sauvignon Blanc Vigneti delle Dolomiti IGT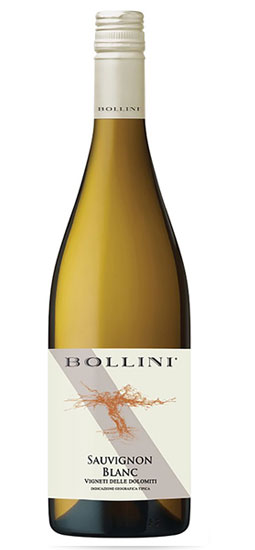 The Bollini story began in 1979, when Neil and Maria Empson
decided to create their own label in the Alpine foothills of Friuli and
Trentino. Their goal was to showcase the excellence and consistency of
international varieties grown in the cool northeastern regions, while
keeping the prices affordable.
A classic in the Dolomites, Sauvignon Blanc has found growing
conditions similar to those in its original terroir in
southern France. This grape performs best on sunny hillsides where
soils are rich in gravel.
2020 | Luca Maroni91
2019 | James Suckling90
Grape Varieties:
Fermentation container:
Type of yeast:
Fermentation temperature:
Maceration technique:
Length of maceration:
Malolactic fermentation:
Aging containers:
Closure:
Organic:
Soil composition:
Vine training:
Guyot and Pergola Trentina
Altitude:
300 meters (984 feet) above sea level
Vine density:
Exposure:
Tasting notes:
Pale straw yellow. Complex and aromatic on the nose, full with assertive personality on the palate, reminiscent of fig, elderflower and
Serving temperature:
Best served at 10-12 °C (50-53.6 °F).
Food pairings:
Ideal with full-flavored appetizers and fish in sauces.
Aging potential:
Alcohol:
You may also like from
Bollini