Peloro Bianco Sicilia DOC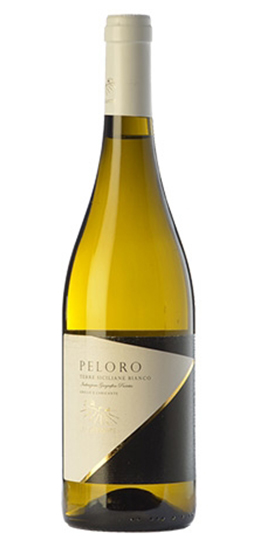 Peloro is made from Grillo and Carricante grapes grown in vineyards in Faro Superiore overlooking the sea and benefiting from its cool, salty sea breezes. The vines range from twenty to thirty years old.
Vinified and aged in stainless steel and then in bottle. Brilliant color with interesting notes of chamomile and mimosa and Mediterranean herbs.
2020 | Wine Advocate91
2020 | James Suckling92
2018 | Vinous90
2015 | Wine Enthusiast92
Grape Varieties:
65% Grillo and 35% Carricante
Fermentation container:
Length of alcoholic fermentation:
Type of yeast:
Fermentation temperature:
Malolactic fermentation:
Aging containers:
Bottling period:
Aging before bottling:
Aging in bottle:
Closure:
Organic:
Vineyard name:
Vineyard location:
Faro Superiore, Messina, Sicily
Vineyard size:
Soil composition:
Vine training:
Altitude:
250-370 meters (820 and 1,215 feet) above sea level
Vine density:
5,000-6,000 plants per hectare
Yield:
71 -75 quintals per hectare
Exposure:
Years planted:
Age of vines:
Time of harvest:
First vintage of this wine:
Total yearly production (in bottles):
Tasting notes:
Bright straw yellow in color. The nose boasts notes of white- and yellow-fleshed fruit, floral aromas of mimosas and chamomile, mineral aromas and Mediterranean herbs. On the palate, the wine is fresh and tangy with pleasant fruit and a long, invigorating finale heightened by lively citrus notes.
Serving temperature:
Best served at 6-8 °C (42.8-46.4 °F).
Food pairings:
Simple fish dishes as well as raw preparations like sushi and sashimi.
Aging potential:
Alcohol:
Alcohol cont.: 12.5%/13 by vol.; dry extract: 20 g/l; residual sugar: <5 g/l; total acidity: 6.5 g/l; pH: 3.2
Winemaker:
You may also like from
Le Casematte