Dolcetto d'Alba Fontanazza DOC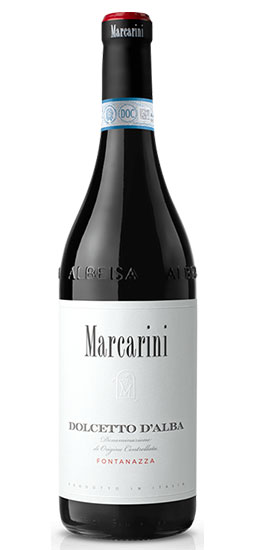 A native Piedmont variety, first documented in the late eighteenth century. Dolcetto d'Alba has always been a favorite in the Langhe — especially as an everyday wine — for its soft, round fruitiness, firm body, fresh acidity, and easy-to-drink character. Dolcetto has naturally low tannins but excellent structure and extremely pleasing, fragrant aromas. This no-oak version deliberately maximizes freshness, fruit, and early appeal.
Wine exported to
Bermuda, Canada, USA, Puerto Rico, Australia, Austria
2022 | James Suckling90
2016 | Wine & Spirits88
2015 | Wine Spectator88
2014 | Decanter90
Grape Varieties:
Fermentation container:
Stainless steel, concrete tanks
Length of alcoholic fermentation:
Type of yeast:
Fermentation temperature:
Malolactic fermentation:
Fining agent:
Aging containers:
Container size:
Bottling period:
Aging before bottling:
6 Months in Stainless Steel
Aging in bottle:
Closure:
Organic:
Vineyard location:
Vineyard size:
Soil composition:
Calcareous clay with high magnesium content
Vine training:
Altitude:
320 meters (1,050 feet) above sea level
Vine density:
Yield:
Exposure:
Years planted:
Age of vines:
Time of harvest:
First vintage of this wine:
Total yearly production (in bottles):
Tasting notes:
Magnificent ruby red with violet reflections; intense, persistent bouquet shows appealing floral and fruity notes, sweet spice; these are confirmed on the palate and sustained by good acidity and a sweet almond finish.
Serving temperature:
Best served at 14-16 °C (57.2 - 60.8 °F).
Food pairings:
With its characteristics, the Dolcetto "Fontanazza" is an excellent companion to every dish of Italian and international cuisines.
Aging potential:
Alcohol:
Winemaker:
The Marcarini family and Valter Bonetti
You may also like from
Marcarini