The Osservatorio Spumanti (the Italian Observatory that watches the wine economy) reports that Italian sparkling wine sales hover around one billion euros. That is around 276 million bottles popped around the globe every year. Prosecco and Lambrusco are the heavyweights in those numbers, but Franciacorta, from Italy's Lombardy region, is gaining popularity due to its elegance and complexity as well as the changing tastes of consumers.   
Italy's sparkling tradition dates back to biblical and Roman times, but it seems a doctor called Girolamo Conforti wrote about wines naturally fermented in bottle way back in 1570, when he described them as having "a piquant or biting flavor that does not dry out the palate like wines that are immature and austere, and that does not make the tongue soft like sweet wines."*
A DOC since 1967 and a DOCG since 1995, Franciacorta is located in Lombardy, east of Milan, in the Brescia province, and extends 125 miles up against Lago d'Iseo, the Oglio River and the city of Brescia itself. The unique morainic soil is rich in mineral content lending complex aromas and flavors to the wines.
Typically, grapes – Chardonnay, Pinot Nero, Pinot Bianco and the native Erbamat – are picked a tiny bit early (in August) to ensure acidity is high and are then fermented in tanks to create a base wine. The wine is then bottled with yeast and sugar – the amount depends on the style you are looking for and ranges from Pas Dose to Demi-Sec – to kick off secondary fermentation. As more alcohol is created, CO2 is created, giving the wines its long-lasting bubbly character. There are five types, with different aging and dosage requirements: Franciacorta (18 months), Franciacorta Saten (24 months), Franciacorta Rose (24 months), Franciacorta Millesimato (30 months), and Franciacorta Riserva (60 months).
According to regulations, the wines must rest on their fine lees for 18-60 months, creating layers of flavors and aromas that greatly differ from those made with a tank method. These bottles can often stand up to cellaring, from a few years to many and even many, many.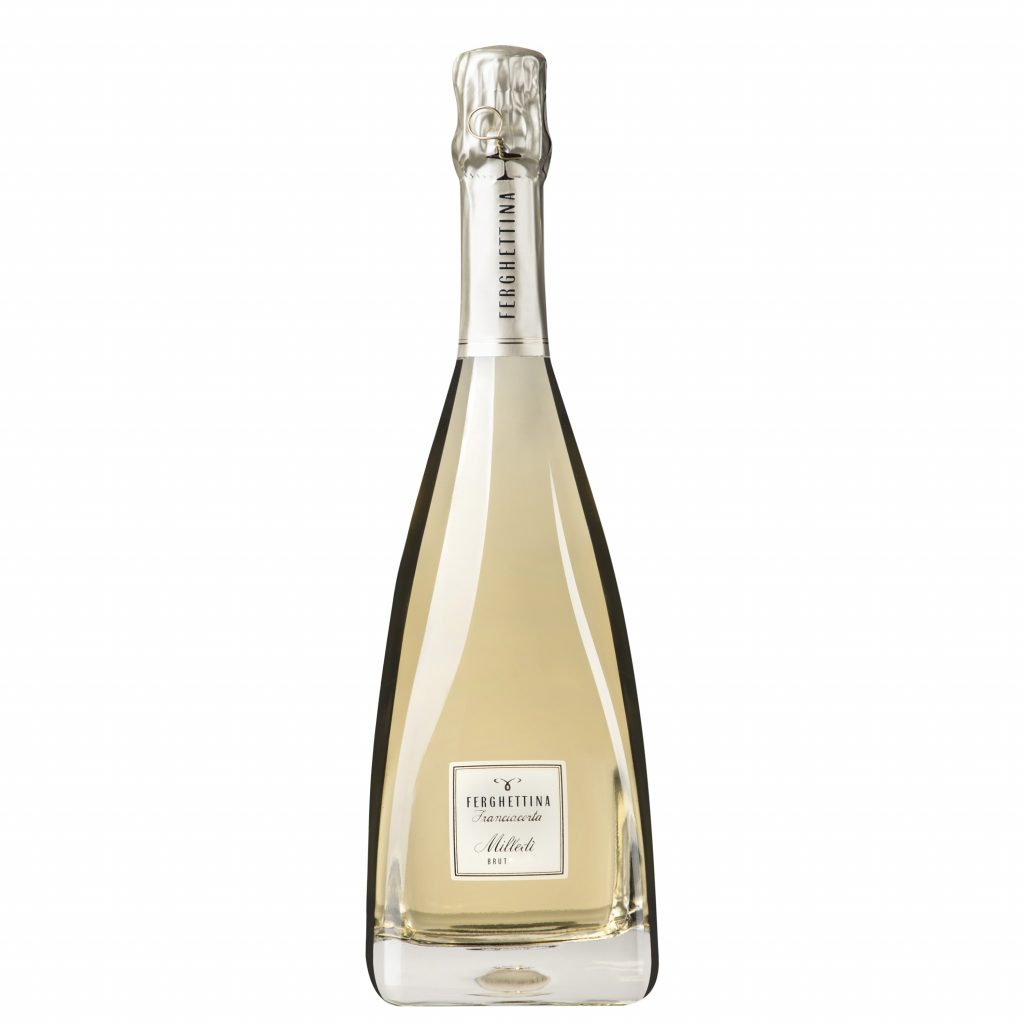 Generally, these wines have small, persistent bubbles, with great structure, complexity, and a long-lasting palate. Often with aromas of fresh-baked bread, yeast, hazelnut, peach, apple, pear and citrus. As for pairings, Laura Gatti of Ferghettina reminds us not to be afraid of creative pairings "Franciacorta goes with anything. Da pizza in poi…. So pair your favorite bottle with everything from savory finger foods to Mediterranean flatbreads and risotto, roasted pork or sushi. It's a wonderful companion for multi-course meals – with or without the Michelin stars."
Ferghettina is located in Erbusco, right in the heart of Franciacorta. Known for its elegant wines, this winery favors long aging on fine lees and very little dosage. They use specially designed bottles that create more contact with the lees during the aging process. True ambassadors of the zone, the winery aims to highlight the terroir and the grapes' personality through skillful blending and aging.
*Source: https://www.franciacorta.net/en/viticulture/origin/