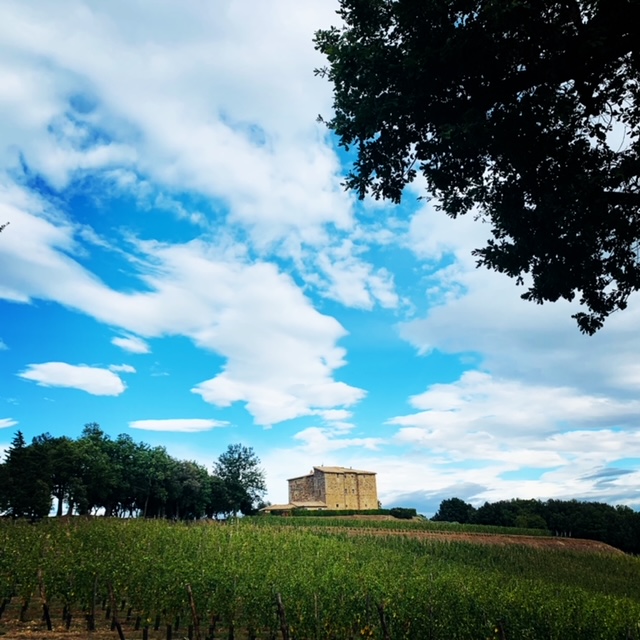 A visit to Castello Romitorio moves you. Conversations don't just center around their delicious, award-winning wines and how they were cultivated, but also include topics, such as art, philosophy, history, and geography. Filippo Chia is fascinating, profound, and multi-faceted, just like his wines, offering a view of winemaking that goes beyond just crushing grapes. You learn about the beautiful light and energy that graces these hills, you see breathtaking views of art cities like Siena and Montalcino, and the Montosoli hills, which do nothing if not inspire you to do great things, to make great art, to make great wine.
Sandro Chia, Filippo's father and the founder of Castello Romitorio (est. 1984), is equally fascinating. During his travels, he fell in love with Montalcino and bought a castle on one of the highest points of the hill, that has a history dating back at least a thousand years, where he still lives today. In 2005, he turned the reins over to his son Filippo, but not before having left his mark. He completely overhauled the castle, using his artistry to render it unique, the way he has the labels. Each deliberate brushstroke most definitely tells a story. The half man/half horse on their Brunello represents ancient ties to the land, and the label also pays homage to Siena, to the Palio, and to Montalcino – "it is essentially a synthesis of their energies," explains Filippo.
In the vineyard, Sandro worked extremely closely with Franco Martini, a local Brunello expert, to create classic wines that honored their identity and history. Filippo, who now works with Franco's son Stefano, recalls how different things were back then. "Everything was really spontaneous. These guys would sit around the tables at the local fiaschetteria, trading cuttings and secrets." And we are talking about the people we look to today as the leading producers, such as Soldera and Biondi Santi. Having had those one-of-a-kind opportunities to learn helped shape the vineyards at the time, for example, Sandro planted big-berry Sangiovese, 90 meters apart in rows three meters apart. "The philosophy was different and so were the goals: they looked for color, structure, and alcohol. Today we concentrate on terroir-driven wines that highlight Sangiovese and the individual characteristics of each vineyard."
Filippo and the winery essentially "grew up" together, born just a year apart. "I was learning to walk as Dad was building the castle." He spent the first 20 or so years of his life in New York, but because both his parents had farms in Italy, he spent his entire summers between Tuscany and Lazio every single year until he was 19. Finally, after receiving a degree in photography from NYU, his passions led him to settle in Montalcino permanently. Wise beyond his years, talking to him is like talking to a historian, a geologist, or a local weatherman. It's no surprise that the Consorzio di Montalcino claims he has "the spirit of a veteran." And the proof of that is certainly in the many, many accolades his wines have enjoyed recently. Castello Romitorio just received 93+, 94+, 97, and 98 points, for the Brunello 2017, Brunello Filo di Seta 2017, Brunello Riserva 2016, and Brunello Riserva Filo di Seta 2016, respectively, from Vinous.
The 200-hectare – of mostly forest – winery is located near the top of the northern slope of Montalcino. Daniele D'Antoni, sales and marketing director, likens the wines to "Mountain Brunello," thanks to the very high altitudes of some of the vineyards – up to 500 meters. The forest and the general layout of the winery provide protection from severe weather, which is mostly continental. This gives the grapes the chance to truly ripen slowly, evenly, and healthfully. "Too much heat blocks ripening. Here the heat is less extreme, which also helps in terms of global warming," explains Filippo. There are two rivers, the Ombrone and the Orcia, that run from the Tuscan coast. The sea breezes mixed with hot Maremma air come in and combine with cooler weather that comes from the north and Mount Amiata. "This hill is a virtual island and the climate allows Sangiovese to fully protect itself." Castello Romitorio is also just at the tail end of organic conversion and will be fully certified by next year. The only neighbor they have is biodynamic.
As the Orcia area was once underwater because it was an ancient sea basin, the soils vary widely, ranging from Galestro to clay, marl, schist, red, shale, and gravel. Often you can find sea fossils in the soil. The winery plants vineyards in different areas of the property, based on exposure and soil. Each plot is vinified separately, to be combined according to their characteristics, if not for their single-vineyard wines. "Wine is better than the sum of its parts," says Filippo. "And we are about maintaining its purity, as if a freshly opened rose petal. We believe in minimal intervention. But 95% of winemaking is the choices you make in the vineyard, especially when and what to harvest.
The territory will always be elegant. But a vintage is a lasting image of that year, that growth cycle. Our task is to develop one thing from another, maintaining the original artistry of the fruit. We do open-tank fermentation, with careful periodic pushdowns and let gravity do some of the work. We don't like to agitate the wine too much. About 70% of our [French] barrels and casks are used and this is to minimize the impact oak can have on the wine."
Currently, Castello Romitorio produces about 150,000 bottles from about 45 hectares under vine, between Montalcino and the Maremma. It is available all over the world and Empson has the privilege of representing them in British Columbia. "We are proud to work with Empson," he said as we were leaving from a fabulous visit. Filippo, we just want to say, the feeling is mutual.