Campo Romano Pinot Nero Langhe DOC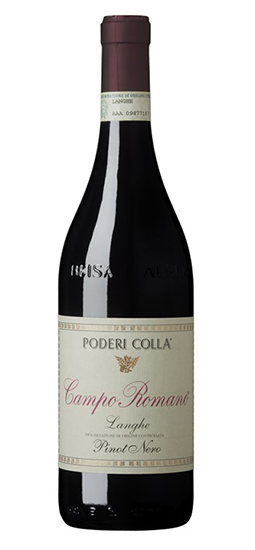 Burgundian Pinot Noir from old vines, planted in 1977, at 330 meters (1,080 feet), above sea level, with western exposure. Ages in oak barrels for twelve months. It shows the elegance and finesse of the French Pinot Noir, which perfectly unites with Piedmont's signature structure. The name is a tribute to the vineyard's "prior use." When the land was plowed prior to planting, relics, such as brick fragments, tiles, and amphorae from a Roman settlement were found.
The wine itself features lovely aromas, well-integrated tannins, and a long-lasting finish; it is quite cellar-worthy. It is especially lovely paired with Piedmont's traditional dish of agnolotti (meat ravioli).
Wine exported to
Korea, Puerto Rico, Australia
Grape Varieties:
Fermentation container:
Fermentation temperature:
Length of maceration:
Malolactic fermentation:
Aging containers:
Container size:
Type of oak:
Bottling period:
Aging before bottling:
Aging in bottle:
Closure:
Organic:
Vineyard name:
Vineyard location:
Vineyard size:
2.69 hectares (6.64 acres)
Soil composition:
Vine training:
Altitude:
330 meters (1,082 feet) above sea level
Vine density:
Yield:
Exposure:
Years planted:
Time of harvest:
First vintage of this wine:
Total yearly production (in bottles):
Tasting notes:
Delicate ruby red with lively rose-colored reflections; very elegant bouquet showing spicy notes of white pepper as well as fruity and floral aromas; on the palate, there is remarkable balance, finesse and persistence, with elegant notes of oak and a smooth, appealing texture.
Serving temperature:
Best served at 16-18 °C (60.8-64.4 °F).
Food pairings:
Goes well with agnolotti pasta and roast fowl.
Aging potential:
Good aging potential, 10 years very easily
Alcohol:
Alcohol 12,5-13,5 % ; Acidity 5-5.5 gr/l
Winemaker:
You may also like from
Poderi Colla