Barolo Castelletto "Vigna Pressenda" DOCG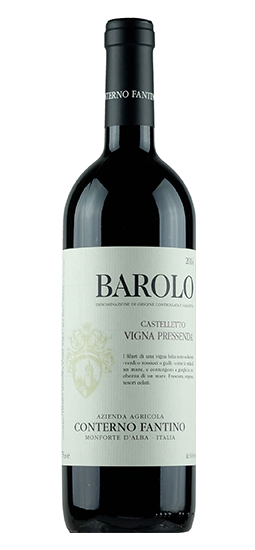 Vigna Pressenda is found in the Castelletto district of Barolo. It is Conterno Fantino's newest addition to their range of top-quality wines. The vineyard was already recognized for excellence through its past winemakers, and now we've seen that Conterno Fantino has only improved it. The vineyard is 350-370 meters (1,150-1,214 feet) above sea level and is southeast-facing. The wines are most similar to Vigna del Gris, and are somewhat lighter, perfumed and refined. The oldest vines were planted in 1969.
Wine exported to
Canada, USA, Australia
2017 | James Suckling96
2017 | Vinous Media94
2016 | Wine & Spirits93
2016 | Wine Spectator94
2016 | Wine HunterGold
2016 | Wine Advocate96
2015 | Vinous94
Grape Varieties:
Fermentation container:
Length of alcoholic fermentation:
Type of yeast:
Spontaneous indigenous yeast
Fermentation temperature:
Maceration technique:
Length of maceration:
Malolactic fermentation:
Aging containers:
Container age:
Type of oak:
Bottling period:
Aging before bottling:
Aging in bottle:
Closure:
Organic:
Vineyard name:
Vineyard location:
Monforte d'Alba, Piedmont
Vineyard size:
Soil composition:
29% sand, 53% silt and 18% clay
Vine training:
Altitude:
350-370 meters (1150-1214 feet) above sea level
Vine density:
Yield:
Exposure:
Years planted:
1969,1986, 2005, 2007, 2012
Age of vines:
Time of harvest:
First vintage of this wine:
Total yearly production (in bottles):
Tasting notes:
Deep ruby red with lush, perfumed aromas of rose, red berries, blackberries, chocolate and coffee. Refined and sleek with beautiful tannins and a lively finish.
Serving temperature:
Best served at 16-18 °C (60.8-64.4 °F).
Food pairings:
A wonderful accompaniment to meat and aged cheese
Aging potential:
Alcohol:
Alcohol cont. by volume: 14%
Winemaker:
You may also like from
Conterno Fantino