Barbaresco "Maria di Brün" DOCG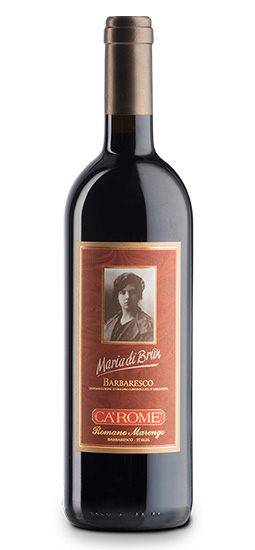 Ca' Rome' is a family-run winery located in Barbaresco atop the Rabajà hill. It overlooks the seemingly endless vista of gently sloping Langhe hillsides, blanketed in impeccable rows of grapevines. It was established in 1980 by Romano Marengo, along with his wife Olimpia. Their children Giuseppe (known as Pino), Paola, and Maria now run the winery.
The winery manages 5 hectares (12 acres) under vine in Barbaresco and Serralunga d'Alba. The vineyards are cultivated eco-sustainably, with the utmost respect for the territory, under the careful yet ardent eye of Giuseppe, enologist. The family's signature warmth, sincerity and genuineness come through in their magnificent wines.
This single vineyard planted in 1969 is located in the area of Barbaresco and enjoys southeastern exposure. The origins of the soil go back to the Tortonian-Messinian era and locally the soil is known as the white marl of "Saint Agatha." It is rich in manganese, zinc and boron. This longstanding classic spends about thirty-six months in Slavonian oak barrels, with a part in barrique. It then ages about twelve months in bottle before being released, unfiltered.
Maria di Brün was named for Giuseppe's grandmother, who came from the Bruni area of Serralunga d'Alba. As the winery's flagship wine, it delivers a complex and ample nose presenting violet and underbrush. Full, velvety and very balanced.
Wine exported to
Japan, USA, Canada, Australia
2016 | Wine & Spirits91
2016 | James Suckling96
2016 | Wine Advocate94
2016 | Vinous Media90
2015 | Vinous93
2014 | Gambero Rosso3 Bicchieri
2011 | Wine Spectator92
2010 | Wine Enthusiast92
Grape Varieties:
Fermentation container:
Length of alcoholic fermentation:
Type of yeast:
Fermentation temperature:
Maceration technique:
Length of maceration:
Malolactic fermentation:
Aging containers:
Container size:
Container age:
Type of oak:
French (medium toast) and Slavonian
Bottling period:
Aging before bottling:
Aging in bottle:
Closure:
Organic:
Vineyard name:
Vineyard location:
Vineyard size:
Soil composition:
Vine training:
Altitude:
278 to 310 meters (912 to 1,017 feet) above sea level
Vine density:
Yield:
Exposure:
Years planted:
Age of vines:
Time of harvest:
Total yearly production (in bottles):
Depends on vintage, but only made in good years.
Tasting notes:
A beautiful, deep ruby color, a very intense, persistent bouquet, complex and elegant, full bodied, and with a distinctive personality. A deeply satisfying wine with excellent cellarability.
Serving temperature:
Best served at 16-18 °C (60.8-64.4 °F).
Food pairings:
Goes perfectly with meat, pasta and aged cheese.
Aging potential:
Alcohol:
Alcohol cont. 14.5% by vol.
Winemaker:
You may also like from
Cà Romè