Easy to drink and pair, steeped in history, but most importantly, the perfect expression of its unique terroir.
Since leaving the fiasco – the round-bottomed bottle wrapped in a straw basket – behind, and taking on new DOCG regulations aimed at improving quality, Chianti Classico has gained wide recognition as a first–rate, affordable and food-flexible wine all over the world.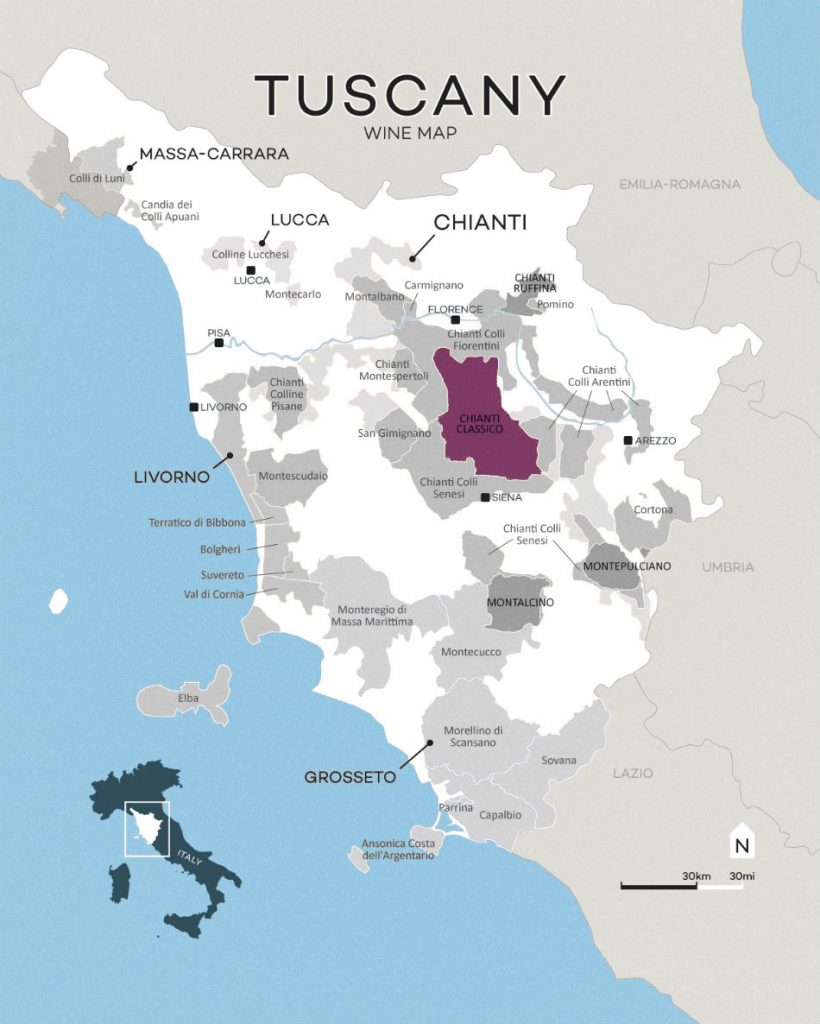 Chianti Classico was once part of Tuscany's larger "Chianti" wine zone, but it broke off in 1996, to enhance the value of a smaller area within it. The differences between the two wines are most often related to terroir and style, but that could be said for Chianti Classico itself as well. In fact, there are eight geographical comuni in the small area between Florence and Siena – about 70,000 hectares (173,000 acres) that fall within the confines of Chianti Classico. Franco Bernabei, a champion of Sangiovese – especially in Chianti Classico, having first set up shop there in 1978 – and the enologist for the Toscolo line, maintains that the wines from this area have truly grown over the last forty years, "The quality is transparent, multi-faceted, captivating, and consistent. Sangiovese is a "prince" but it is actually similar to Pinot Noir or Nebbiolo where the tannins are tight and silky, increasing their uniqueness."
Known for its picturesque rolling landscape full of vineyards, olive groves, medieval hilltop towns, castles and fortresses, the Chianti Classico wine area is also particularly suited to viticulture – 7,200 hectares (17,300 acres) are under vine and intended for DOCG wines. In fact, the Etruscans and then the Romans were the first to discover this. Fast forward through time – all the way to 1716, the Grand Duke of Tuscany Cosimo III outlined and protected it as a quality winemaking zone. Sangiovese is the grape of choice because it is the perfect environment for its delicate nature. Franco Bernabei explains, "The suitability depends a lot on the great biodiversity of the terrain, the microclimates of the different comuni, the altitude and the diurnal temperature changes." Gioia Cresti of Carpineta Fontalpino got more specific, "Historically, Chianti Classico was one of the rockiest regions, where most agriculture was a colossal endeavor. But Sangiovese vines were planted and found to be not only generous, but good, perfumed and beneficial to farmers, giving them energy. As Sangiovese evolved in the region, it became more elegant and finer but continued to show great drinkability. It is all due to the climate, which is cold in winter and mild in summer. It's a very difficult grape, very sensitive to humidity, extreme heat and rain."
Franco gave us a quick round-up of just a few of the areas known for their quality and appeal, which he also tells us are moving towards becoming as sustainable or organic as possible.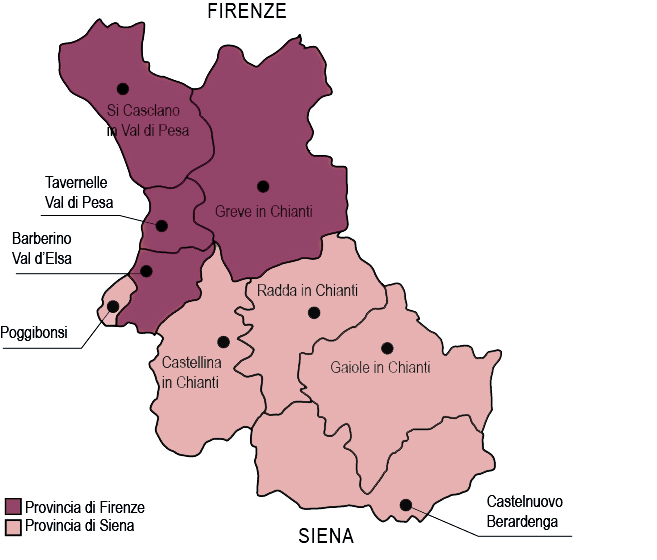 Castelnuovo Berardenga
Located at an average of 351 meters (1,148 feet) above sea level with loamy, sandy and even clayey soils, the wines here often show great personality and elegance. More specifically, the soils can be almost alluvial with Galestro (a brittle rocky soil), Alberese or Macigno, a type of sandstone. The wine can be rich in color with aromas of black cherry, black currant, dried violets, licorice, eucalyptus or tobacco. And as Gioia Cresti points out: "A powerful nose, with good body."
Greve in Chianti
One of the areas lower in altitude – an average of 236 meters (774 feet) above sea level – Greve in Chianti is a very diverse area with different micro-climates. The area features good day/night temperature swings, especially at the higher altitudes, which help grapes mature slowly and evenly and develop a strong aromatic profile. The wines often show great finesse, balance and good acidity with silky, dense tannins and heaps of fruit.
Radda in Chianti
Another area located at a high elevation – 530 meters (1,740 feet) above sea level – the soils are also Galestro and Alberese. High altitudes and diurnal temperature changes lead to good mineral persistence with flinty notes. The wines can be silky with slightly aggressive tannins in their youth, but could show wonderful elegance, persistence and freshness over time. The nose may show elegant notes of ripe black fruit, complemented by earthy aromas and spices like juniper berry. You might find this in Toscolo, "whose grapes mostly come from here, where the acidity and minerality reach their highest expression, uniting with fruit and a long finish," explains Franco.
Gaiole in Chianti
Located an average of 360 meters (1,181 feet) above sea level, it is the largest area, but is also one of the most diverse in terms of the altitude, slope, and exposure of the vineyards. Tannins are often mild due to the different types of soils, which can be tuff, arenaceous and Galestro. The wines often have a rich color, with balanced acidity and tannins. The nose can range from dried violets to citrusy notes and small wild berries, licorice and tobacco. They are often structured and elegant with just the right tannins and acidity.
The Quality Pyramid
There are three tiers of quality for Chianti Classico – Annata, Riserva and Gran Selezione. Annata, the "regular" Chianti Classico, must age at least 12 months; the Riserva, must age 24 months and 3 months in bottle; and the Gran Selezione, which can only be made from estate-grown grapes from single vineyards that satisfy strict regulations, must age a minimum of 30 months and 3 months in bottle. They all need to adhere to strict tasting and testing standards. But what makes Chianti Classico so incredibly special is that because of these different terroirs, there are a wide array of options, also influenced by the winemaker's personal preferences in style and aging (whether large botti or new barrique), which could lean towards tradition or innovation. But Franco assures us that, "Today, modern and traditional styles have united for a common goal – to bring out the elegance of Sangiovese, as well as its backbone of acidity and tannins, and an exquisite persistence."
Chianti Classico also makes a good everyday wine because, in the words of Gioia Cresti, "It's fresh and pleasant on the palate," but she also warns not to forget that it "is also long-lasting and vivacious, to be enjoyed over the years!" Try her Chianti Classico Fontalpino, which the French-trained enologist deems, "The essence of Chianti Classico." It comes from 10 hectares (25 acres) in the Castelnuovo Berardenga area and was recently awarded Tre Bicchieri, from Gambero Rosso.
Another good choice is Toscolo Chianti Classico, from 95% Sangiovese and 5% Cabernet Sauvignon. It ages one year in barrique and a few months in bottle. It has a classic nose of violet, iris and vanilla with lots of fruit, good texture and extract. Also available in a Riserva version.
Images: Gaetano Mennonna