Bolgheri is a geological paradise for lovers of wine. If you don't believe us, just ask the owners of Campo alla Sughera, geologists by trade, winemakers by passion, who ended up purchasing a small patch of land in 1997 among some of the most iconic wineries in the world while looking for gypsum for their plasterboard business. After careful study, the Knauf family was told, "No gypsum here, but great for wine." Being consummate wine enthusiasts – who previously owned a winery in Mosel – the family acquired their first 20 hectares, which had been planted to fruit and legumes, and began studying every single inch, ultimately outlining 38 micro terroirs over about 16.5 hectares, which they would later plant and blend separately for their highly rated Bordeaux blends.
Campo alla Sughera is located between Castagneto Carducci and Bolgheri, only 7 km from the Tyrrhenian Sea. The weather is relatively mild, with coastal sunlight that reflects off the sea and moderate and well-distributed rains. The vineyards of 20-25-year-old vines further benefit from cool sea breezes, which continually aerate the vineyards, ensuring elegant, fresh wines and fending off rot and disease. The proximity to the sea and the incredible soils, which many thousands of years ago were underwater likely contribute to the beautiful notes of minerality in the wines. Today there are dozens of soil types, but Campo alla Sughera mainly sees two larger matrixes: alluvial, with clay and gravelly, stony soils originating from the hills behind, and ancient sand and marl, with remnants of sea fossils on the side closer to the seashore.
While the consensus is to compare this terroir to that of Bordeaux, Tommaso Alessandri, the winery's director and wine and beverage business veteran, explains, "We don't like to call this the Bordeaux of the Mediterranean. We do make Bordeaux blends, but our wines are an expression of the local terroir and aren't meant to be carbon copies of any other wine or region. That said, there are some similarities." Onsite enologist Francesco Gagliardi has been working with world-renowned French enologist and consultant Stéphane Derenoncourt since 2017. They also use the Medocaine method of planting, which calls for high-density vines, about 9,500 plants per hectare. This method forces the vines to compete, and thus dig deep down – even up to 4 meters – for nutrients and water.
All told, Campo alla Sughera benefits from fabulous beach weather, excellent soils suited to top-market wines, and meticulous vineyard management with a world-renowned enologist.
So what about the wine?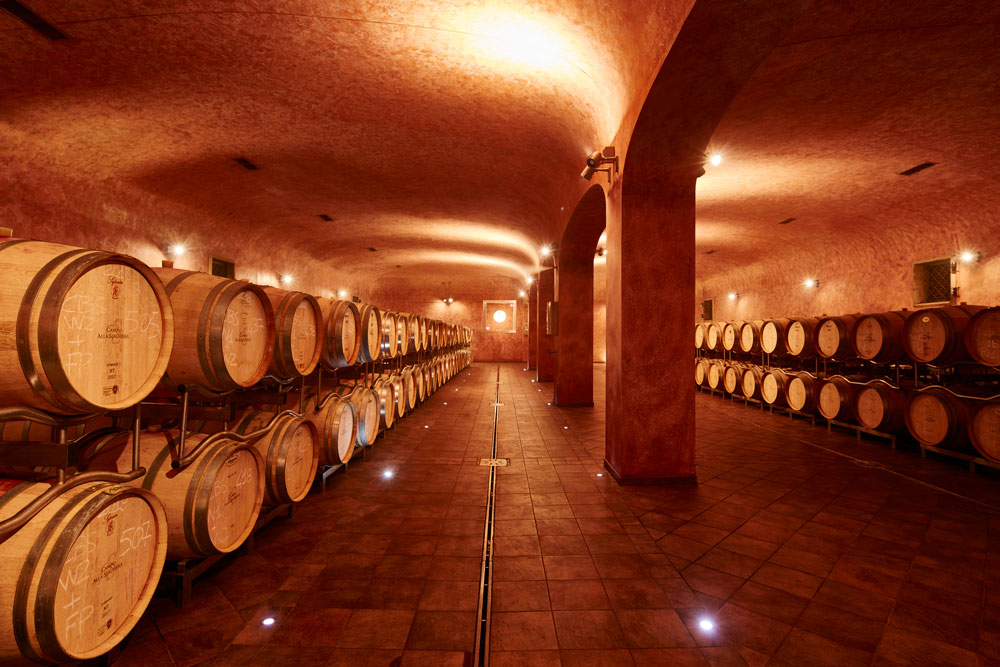 "Our philosophy is to seek uncompromising quality year after year in the vineyard and in the cellar and to fully reflect the growing season. The grapes go through a triple selection and are placed in small crates (which hold about 15 kg) and within an hour and a half, they are in the cellar ready for vinification. Making good wine in an easy-growing season is one thing. But making good wine in a difficult one is another one altogether. And that's our goal. We are all about consistency," explains Tommaso.
The winery also doesn't aim for bold, heavy, challenging wines. "We are looking for great finesse, less body, more balance, and we hope to achieve this through vineyard management. And as for their aging program, "We don't like to overpower the wines with oaky flavors. We use small percentages of new medium-toast barriques and barrels and aim for elegance over power." Campo alla Sughera also releases the wines a bit later than the average for Bolgheri DOC, hoping to achieve a greater degree of balance and drinkability before reaching the market. Finally, because of the high quality of the tannins and the beautiful acidity achievable here, the wines can be cellared for up to 20-25 years.
Campo alla Sughera makes about 110,000 bottles a year and just acquired and planted two more hectares, whose fruit will see its way into the wine in the very near future.
The very delicious blends Arnione and Adeo are available in Alberta and British Columbia, Canada.